The sofa of tomorrow? A hammock! The creative flair of Form Us With Love stages a never-before-seen modern sofa concept. Shift is an experimental "sofa" born from the collaboration between the Swedish studio and Samsung Nordic.
Samsung asked the creatives at Form Us With Love – a Swedish multidisciplinary design studio that has been challenging the unconventional since its inception – to imagine the sofa in fifteen years, projecting the king of the home into a new era, considering changing technology and future domestic lifestyles.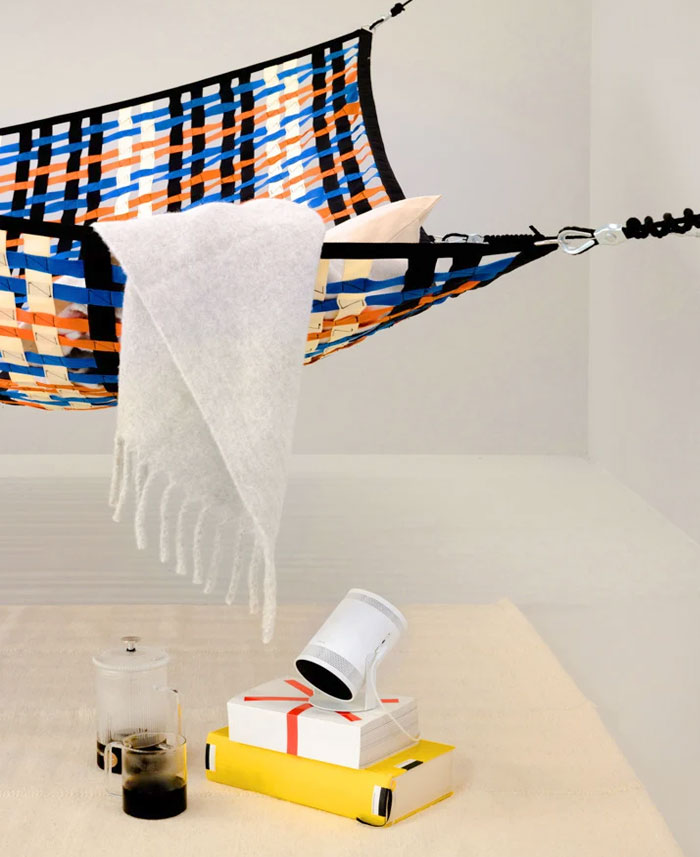 "The only thing we know about the future is that we know nothing about it!" says John Löfgren, Form Us With Love co-founder. "So we developed something flexible in terms of placement, arrangement, use and foreseeable availability of materials".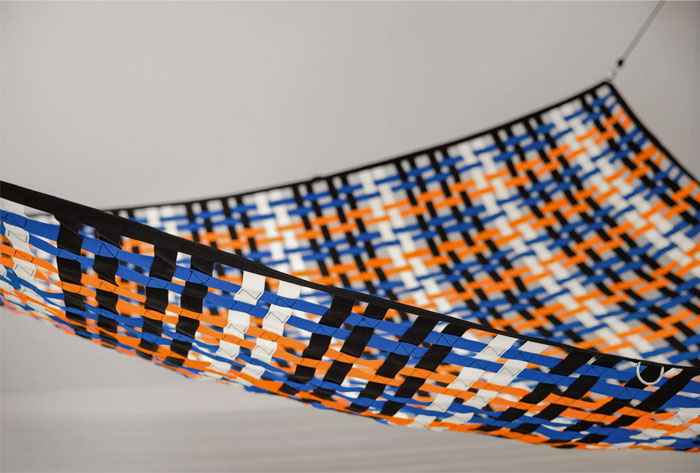 The function of the sofa has changed over the years. From an island of relaxation for watching TV, it has evolved into a place for a light meal or to sleep and work at the same time. That is why Form Us With Love designed the prototype of the sofa of tomorrow, a webbed structure suspended between the ceiling and floor, a place that adapts to the everyday life of tomorrow, including screen time, adapting to different poses, postures and viewing behaviour.

Unlike the classic sofa, Shift is agile. Incredibly light, it can be closed easily, moved and repositioned in other rooms to enjoy relaxing moments in different parts of the house.
"The demand for technology to adapt to behaviours, needs, and lifestyles is growing all the time," says Magnus Per Nilsson, Product Manager at Samsung Nordic. "This is reflected in our screen collections, which tend to adapt to new ways of living. The starting point for this project was the idea of a potentially modern sofa that could be adapted in different ways for different screen occasions. Wouldn't the whole experience be better every time?"

Using sustainable means – like minimal materials and the application of ecological solutions – Form Us With Love has come up with a concept that moves away from the traditional idea of the sofa firmly rooted in everyone's minds, questioning archetypal upholstery and imagining an object that fits the concept of agility, that can vary and evolve from room to room.