Large and bright renovated apartment made for a young couple who had bought a typical apartment in the Belgrano neighborhood, Buenos Aires, Argentina. The layout ware very segmented and not very useful for the owners' needs.
The priority was to reform the kitchen by incorporating the service room and laundry, creating a large, bright space with work and storage areas. One of the main decisions was to connect the dining room with the kitchen through a library, accompanying the circulation between the spaces. The kitchen was one of the most important spaces for the clients, as they enjoyed sharing with friends and as a couple.
Another major challenge was to create a master suite by combining two rooms and incorporating the ensuite bathroom with a dressing room behind a wooden cladding that served as a space divider.
Being an old apartment, there were certain aspects to hide, such as uneven floors in the living room, beams, installation passages, and columns. Through fixed furniture such as libraries or closets, we sought to rectify the spaces to hide these elements, leaving visually clean and organized spaces. The work was carried out in two stages, first, the renovation took place, and when it was almost finished, the clients decided to carry out the interior design project.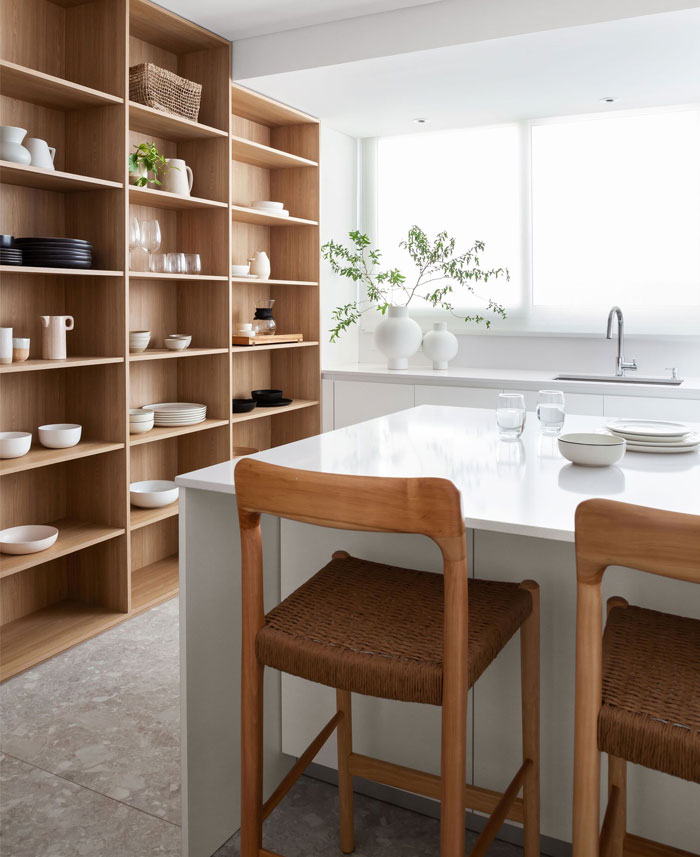 The color palette, materials, and finishes are repeated throughout the apartment, incorporating wood with gray and white tones to provide spaciousness and brightness. We used this resource to unify the spaces and consolidate the chosen aesthetic.
In our studio, we always choose timeless materials that allow clients to have a neutral base to incorporate their personal belongings, reflecting each person's identity.