If you love having movie nights at home, setting the stage for a sublime home movie theater is a necessity. It's not just about the screen and sound, though. The seats you choose will make or break this addition to your home.
Too many homeowners focus on the design of the room and add seating without the same consideration. In the end, they wind up with uncomfortable seats or materials that just don't last. By choosing leather seats, you'll have comfort, quality, and durability.
But with so many leather options, how do you pick the right theater leather seats to make movie nights more enjoyable in your home? This guide will tell you about the types of leather options available to ensure you have years of cozy movie nights at home ahead!
Split-Grain Leather
If you're trying to find leather theater seats for your home while sticking to a budget, you may want to consider split-grain leather. This type of leather is made by splitting the hide and removing the top outer layer.
One of the biggest benefits of choosing split-grain leather theater seats is that it's economical. It has the look of full-grain leather and is durable yet flexible. This means it can be a comfortable option for your home theater.
However, it is not as easy to maintain as higher-quality leather options. While it's comfortable, the texture is a bit harder. This leather is not water resistant, either, meaning you may go nuts reminding everyone not to spill their drinks. Breathability is another concern. It won't stay as cool as full-grain leather, making it feel a little stickier.
Nubuck Leather
Another option is nubuck leather, made from rawhide to give you a softer and textured look—similar to suede. It feels so soft and offers greater durability compared to split-back leather. Since it's breathable, you won't get that sticky feeling, either.
You can also have theater seats made of nubuck leather treated to make them practically waterproof. This will put your mind at ease should you or anyone else spill your drinks.
Unfortunately, the softness of this material also means that it is easier to scratch. Even with treatments to make it impervious to water, oil can leave it stained. You'll certainly want to keep greasy foods like buttery popcorn, pizza, or chicken wings far from nubuck leather theater seats.
Still, theater seats made from nubuck leather are a beautiful and durable option. They are best for homes without children or pets, though, as they pose more potential to damage this type of leather.
Top-Grain Leather
Top-grain leather is a lot like full-grain leather. What makes it different is the process used to treat the surface. Top-grain leather is buffed to make it softer to the touch. It's ideal for adding a warm yet plush feel to your home theater, and you can find it in tons of colors.
That means that red leather seats are absolutely an option for your home theater. You could even do two-tone leather or any other color. This type of leather is also durable yet easy to maintain. It's incredibly resistant to the treats you'd like to enjoy while curled up to watch movies in your media room, like buttery popcorn or a nice glass of Merlot. With the right care, this leather seat option can last over 10 years.
Top-grain leather isn't completely impervious to damage, though. It's easy to scratch like nubuck leather. It can crack if you allow too much sun exposure, though this won't be a problem if you have a devoted home theater room without windows.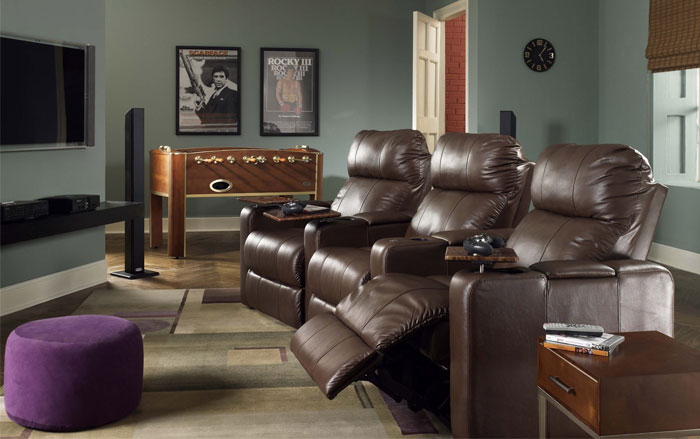 Full-Grain Leather
The most authentic leather option is full-grain leather, and while it will command the highest price point, it is one of the best investments you can make for your home theater setup. Full-grain leather is incredibly pure. It is initially stiff, but it softens over time, conforming to your body. You'll find that it feels like it was made just for you.
Full-grain leather lasts the longest of the various types of leather, so while the initial cost may be more than the others, you won't need to replace it for a long time. This ensures your theater seats will last for years of film-viewing at home.
Naturally, you will need to care for it to keep it in good condition throughout the years, though it is much easier than you think. With regular cleaning and conditioning, you will keep it looking new for years. Full-grain leather can last as long as 20 years when you follow proper cleaning and conditioning protocols.
Nothing beats that rich leather aroma that you get from full-grain leather. Plus, it develops a beautiful patina as it ages, making it even more luxurious. It's incredibly breathable, making it feel cool on hot days and warm on chillier ones.
How to Shop for Theater Leather Seats for Your Home
When picking the perfect leather seats to put in your media room, you will need to measure. There are tons of style options that can fit your seating needs. Though if you want to be assured of the best quality in leather, it only makes sense to shop at a leather furniture store.
Shopping at a store with leather furniture also ensures you'll have a bigger selection to choose from. The salespeople will all know more about the different types of leather and can suggest theater seats that will work for your home. They'll also be able to tell you exactly how to take care of your new leather seats so they will look spectacular for every movie night you host throughout the years!