As this house, the house of a film director – would regularly host 10 to 12 people, it should be a creative basecamp in a cozy home format – a good feeling place for discussions, get-togethers, sharing ideas and presentations.
Hence the large table, the traditional stove with an area to lie down, the stairs leading to the bunk beds, and the kitchen around the corner. The bunk bed under the roof but straight above the table would be great for after-dinner chats and discussions.
The guests can watch the movies on the sofa or in the alcove just behind. Large bifold doors connect inside chats with the outside space framed by a pergola. The master bedroom is situated in the original extension. As you can imagine it wasn't in great shape when we found it, falling apart under a leaking roof.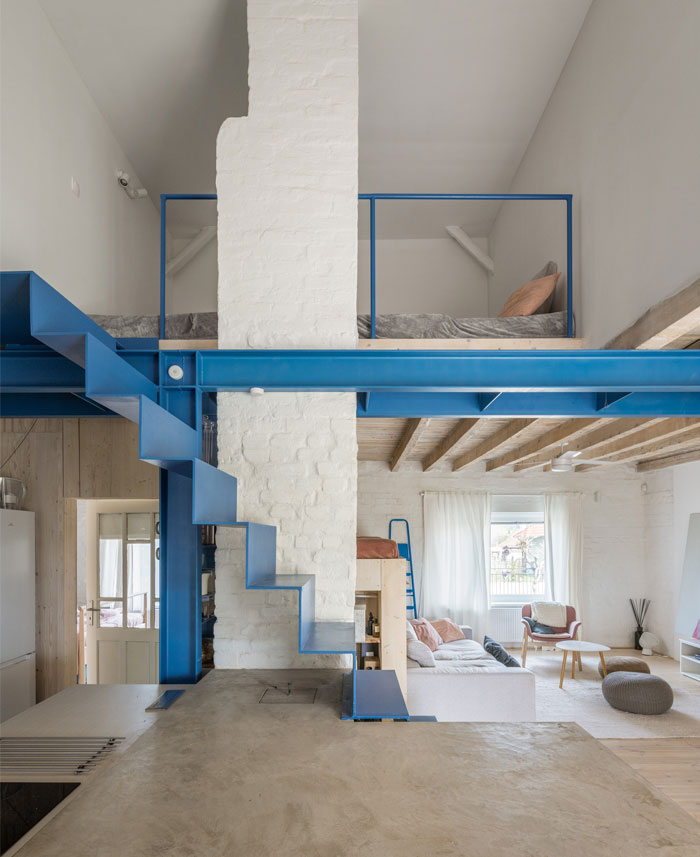 We opened the ceiling to add more room volume and make the room airier. Originally, we were planning for a window-based working table, however as the construction progressed and considering the cost, the atypical made-to-measure features were reduced to the stove, stairs, and the steel double beam – items considered the best value for money for my friend. All the interior work had been coordinated remotely during the pandemic, a challenge that we however managed very successfully. Next, we continued with online discussions on the best use and place for readymade furniture and other accessories.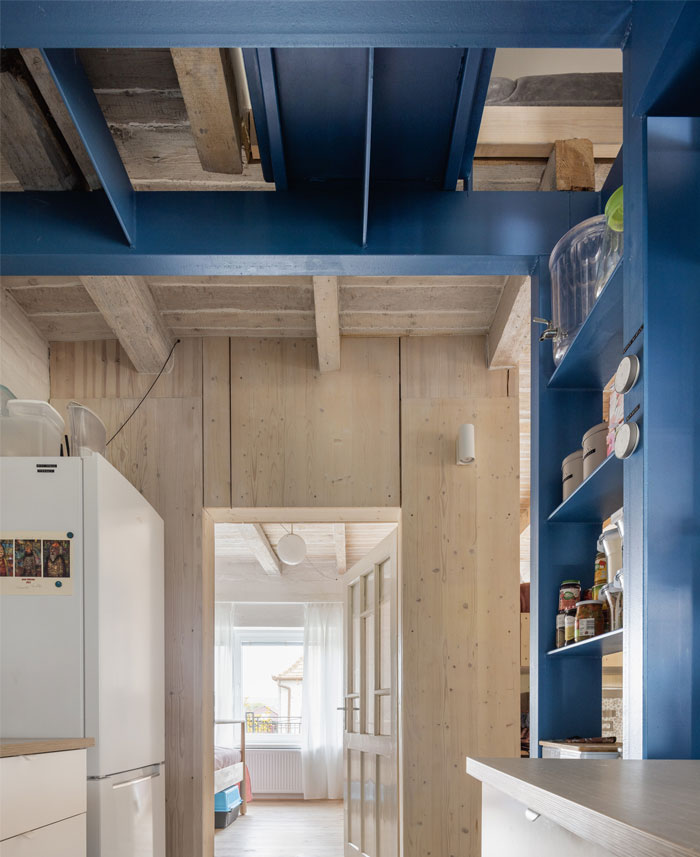 Roof construction also remained largely original although, considering that this place will be visited by students and friends we could not resist and opened the roof in the central area to add to it more living space. The remaining part of the roofing space was not practical to be used due to its height, so we decided to keep the original shape, add isolation, and replaced the roof tiles. We took a very rational approach towards the reconstruction; we aimed to keep and reuse original design elements as much as practically possible.
The pergola was completed later – it turned out to be a very scenic part of the house – truly a mini movie stage – a play of light and shade that change dynamically during the day. The aim was not to restrict the light coming into the house and at the same time provide a nice cover from rain outdoors. In the future, it will bring natural cover with bean plants, climbers, and more.