The main feature of this modern interior is a mix of technology and European style, which combined the features of modern minimalism and elements of classical design.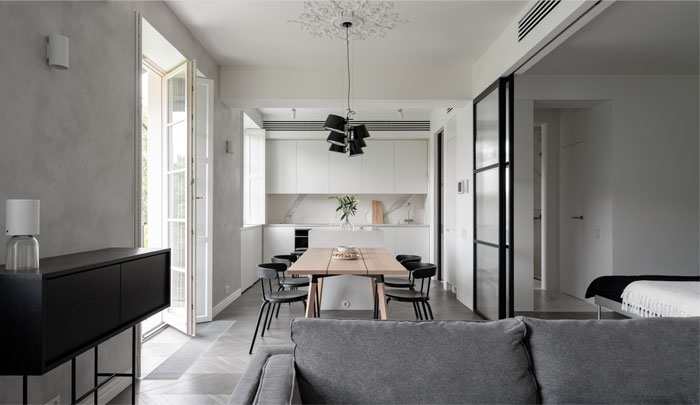 The apartment is located in the historic center of the city in a house built in the middle of the last century, so the initial data were high ceilings, a small crumbling balcony and the standard layout of those days with a separate tiny kitchen and small rooms. Therefore the main task of the design was to create not just an aesthetically pleasing interior, but a comfortable, functional, well-organized space for a young couple.
The basis of the planning decisions was the idea of open space, we made the entire space of the apartment as a whole, with a conventional division into zones. In this case, we left the possibility of making the rooms private, using sliding partitions which can separate the bedroom and bathroom areas.
However, when the partitions are open, the apartment becomes one big space that is visible through several visual axes. The mood of this interior is set not by the colors, as the interior is almost monochrome, but by the details, which have references to the cozy small apartments in the center of Paris. Shutters, open balcony with awning, stucco, furniture on neat thin legs, parquet with "French herringbone" – all these details soften the rather minimalistic design and form the character of the apartment.
Another unusual feature of this interior is its technology. Every inch of space is geared towards functionality and comfort, and all the engineering systems are connected to a "smart home", the control point of which is in a separate technical room and, of course, in the owner's smartphone. For example, we have thought through the ventilation system in detail, hiding all communications in the beams under the ceiling and organizing ventilation ducts in all rooms.
Most of the interior furniture was made to order according to sketches of our designer or customization, such as the bed. We complemented the bed base from IKEA with a custom-designed upholstered headboard, giving us a unique piece of furniture that fits our design perfectly. Also specially for the laser projector we designed a cabinet in the living room, in which it is built under the glass so that it is not visible from the outside. It also houses all the necessary equipment, including an amplifier, modem and climate control.
Thoughtfulness and detailing of every inch of the apartment has allowed us to create a very technological and personalized interior, which will be timeless and fast-moving trends for years to come.