The apartment on Grosslingová Street serves most of the time to owner himself, who uses it as a workspace during his stays in Slovakia. At the same time, it offers the possibility of accommodation for the whole family for weekends or holidays in Bratislava.
The new layout solution is based on the creation of a spacious multifunctional room oriented toward views of the street and moving the bedroom from a utilitarian space to a quiet courtyard. With this change, we have created a generous living space for the owner. However, it also serves as a pleasant place for family activities and relaxation.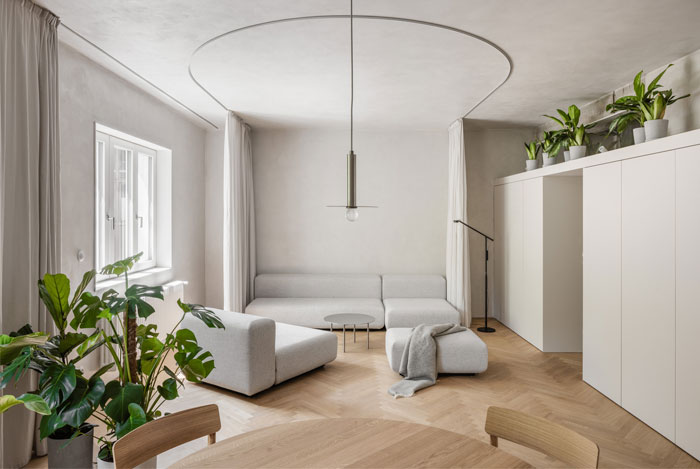 The unique element of this room is a semicircular curtain that creates a "room within a room". This part is suitable for occasional sleepovers for children, which ensures privacy and comfort for all family members. The dominant visual element of the apartment is a continuous wardrobe located along the entire length of the apartment, above which there are skylights that let natural light into the hallway and bathroom.
This closet is oriented to both the hallway and the living room, separating these spaces and integrating functions such as kitchen, storage space, library, and wardrobe. The specific atmosphere of the main space in the evening hours is also achieved by an unconventional way of placing lighting sources. Hidden reflectors on the built-in furniture indirectly illuminate the space and create an intimate and relaxing atmosphere.
Replacing the partition with glass concrete blocks created a visual connection between the bedroom and the bathroom, which thus gained another source of natural light. The owner can adjust the level of visual connection with the help of curtains that separate the wardrobe and the translucent wall from the bedroom.
The choice of materials is characterized by their natural form with minimal surface treatment. Plaster without color treatment, stainless steel, concrete lintels, oak floor, and furniture in natural shades are chosen with regard to their authenticity and simplicity.
Architects: Kuklica Smerek architekti; Area: 80 m²; Year: 2022; Photographs:Matej Hakár; Manufacturers: Tres, Zangra, prostoria; Lead Architects: Peter Kuklica, Martin Smerek; Lighting Designers: raster; Constructor: J.O.Holding.Slovakia; Plants: Botanical lab;