The pandemic and post-pandemic years caused a big change in household organisation and the willingness to experiment in the kitchen; the kitchen became a hub for gathering, chatting and cooking together with family and friends, making memories, experiencing the process of preparing and cooking food and sharing it with our loved ones.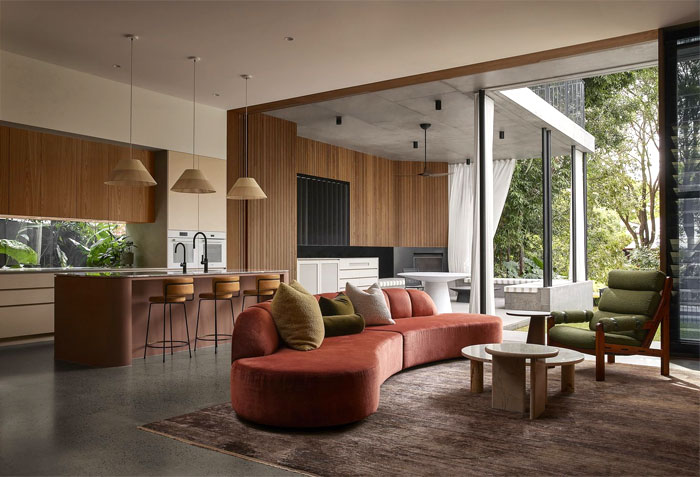 The challenges of the pandemic and the increasing interest in sustainability will encourage people to seek a simpler and more responsible lifestyle, with care for the nature. The kitchen is part of the circular economy and thus both the materials for its construction and the products for cooking became conscious choices with consequences for everyone. The ability to recycle is now of prime importance to the city man, in his attempt not to harm nature.
How have kitchens evolved?
The modern kitchen is inspired by minimalism which necessitates efficient organisation of the tedious trifles required for cooking. The utensils and cleaning agents, cans and small electrical appliances require more storage space. The kitchen needs a lot of small but useful appliances, which means that the need for cabinets to hide all of them is even greater. Housewives are increasingly cooking in the company of children, friends, relatives, and must have easy access to all products and cutlery. Designers strive to make still so accessible cabinets and shelves, without the annoying handles. They are easy to open using push buttons and other opening and closing mechanisms.
The modern man is faced with a lack of time; thus, in the kitchen you will definitely find easy-to-maintain surfaces, often composed of various recycled materials, remote-controlled appliances and technologies for controlling appliances, heating and air conditioning designed to help save energy but also freeing up additional time for the end user.
When it comes to cooking, the inspiration to the younger generation who appreciate food made with clean (organic) ingredients, is an eco-friendly and non-polluting lifestyle; the reusable appliances, such as grills, steam ovens and deep fryers, are a must in modern kitchens. In line with the emphasis on sustainability in kitchen design and manufacture, the focus is now on reducing the carbon footprint and this is reflected in the energy efficiency of appliances, materials, construction and functionality. The kitchen plays an integral role in the household's circular economy: growing food, cooking food and composting waste. It is now both the laboratory and the social hub of the home.
Kitchen is still the heart of the home, but now this concept is expanding, with the preferred style of kitchen design being one that integrates easily into our homes. Current projects demonstrate trouble-free transitions from one area to another so that the home can be a space for work, entertainment, relaxation and family gatherings. This makes for an attractive trend where the main, working part of the kitchen is hidden by a door, and the island instead is part of the social area, the living room.
We are also witnessing an increase in the popularity of open-plan kitchens as people still like the open plan but without the mess which inevitably comes with cooking big family dinners.
As to its composition, the kitchen retains its traditional line of placement of cabinets and worktops: one wall modular kitchen, L-shaped modular kitchen, U-shaped (horseshoe) kitchen, G-shaped (peninsula) kitchen, open kitchen with island.
The mid-century modern kitchen is a major trend in interior design and still plays a strong role with a new, modern interpretation of materials, shapes, technologies, colours and overall aesthetics while maintaining the simplicity of the mid-20th century design inspiration.
The Growing Trend of Living Small
How do apartment kitchens differ from those in traditional houses? In general, designs in smaller spaces need to be smarter; innovation in the use of space is key, and every corner should be used to the maximum and rationally optimised. A thoughtful and measured design of the small kitchen can help model the rest of the interior space of a small apartment as well. It is often important for urban housing that the kitchen integrates seamlessly with the living and dining areas.
Space-constrained urban dwellings are less flexible in terms of functionality and shape, as they often have less usable space for the kitchen. For this reason, we often see multifunctional, design elements in apartments, such as an island that continues into a dining table, or sinks and hobs hidden in a cabinet, and also kitchen cabinets evolving into a book library.
Kitchen Cabinet Materials & Finishes
What materials and functionality can make a kitchen special? The latest trend is a combination of materials and textures selected according to the individual tastes of customers. Earthy, natural materials help give the space a more organic design and look. We are seeing a renaissance of terracotta tiles which are a mandatory element of kitchen furniture.
Wooden MDFs or laminates in combination with glass and metal, such as copper and bronze, go well with marble or imitations of marble or granite with interesting veins or colours. Also, the colours of marble are becoming more and more attractive. However, imitations of the expensive and heavy stone countertops, such as Laminam surfaces or Sustonable, a decorative and functional new surface material crafted from quartz and recycled PET, are becoming increasingly common. The choice of materials can really change and refine a space and create visual drama, an accent, while geometry and unique details help create an interesting visual line and can reveal a lot about someone's personal taste.
Designers have a wide choice of amazing new technologies in materials. The industry mandates specific products that are practical: composite stone, recycled metals, terracotta with unique glazes or imitating earth textures, matte and organic. Elements, such as glass doors and interior lighting, would add a sophisticated and luxurious touch to any dull kitchen cabinet.
Kitchen Colours Inspired By Nature
Green and blue tones are particularly relevant for the kitchens of the 20s and 30s of the 21st century. The balance is inspired by the "less is more" philosophy, with minimalist details and a discreet approach to decorating. Instead, the focus is on captivating colour and the beauty of intricate, compositional patterns inspired by nature and the unique house plan.
The colour scheme of the modern kitchen loves contrasting, deep, rich colours: green, burnt ceramic red and dark coral pink; mustard and copper coloured metals. Black is still trendy, as do the dark brown hues of walnut and oak. Contrasting black and white also find a place in modern kitchens.
The biggest kitchen trends for 2025 / 2026
Nowadays, the trend for surprise, rapid transformation and a laboratory approach, where everything is on display, coexist without conflict. This is the "unexpected kitchen", a space designed to look more like a bar, or the completely hidden kitchen that blends into the surrounding rooms, one moment it is here and the next moment it is gone.
Another trend demonstrates the "showcase" kitchen, a typically extravagant space that's as much an entertaining area as it is a cooking area. Another noteworthy trend is the accessible convenience where the carefully considered details and selection of built-in appliances promote a better quality of life.
We are witnessing many great trends, including practical and multi-functional spaces, cooking spaces with doors to pantries and work areas. Kitchens designed to be in the garden or yard also impress us with their design and functionality. Innovative materials and surfaces made from recycled materials are increasingly used. The cheerful pattern of the terrazzo almost died out. Matte earth surfaces and colours are trendy now.
It is expected that richer wood species, such as walnut, cherry and red oak, will become more common in future interiors. Bold, colourful marbles balanced with neutral colours will be especially trendy.
Designers boldly experiment with various combinations of wood and hard surfaces, e.g. granite, marble, or innovative surfaces made of recycled materials. This change will be most noticeable in the kitchen whether using bold combinations of cabinets and countertops or making small renovations to existing kitchens.
The introduction of new materials and variegated colour schemes allows you to experiment with new looks. Last year saw a shift towards maximalism, experimenting with patterns and rich colour schemes. This year will continue this trend with a fresher fervour and it will be established as the main trend.
There will be bold and forward designs that give increased personality to the space. Clients are opting for customized patterns and colours rather than going for conformable products that suit just any space.