Design studio Visual Display takes over the interior composition of the entrance area of the two Michelin-star restaurant 'Agli Amici 1887' in Udine, Italy. Following the design principles that form the rest of the 'Scarello house', the creative team redesigns the previous tavern into the new welcoming 'blue lounge' overlooking the town square.
Considering the experience of the customer's first approach to the kitchen, the project is defined by the concept of the starting point of the proposed gastronomic experience and the anticipation around it. Designed as a space to enjoy a welcoming aperitif, the bar lounge forms a suspenseful and surprising atmosphere in dim lighting and neon pops of color illuminating the blue hues of the interior.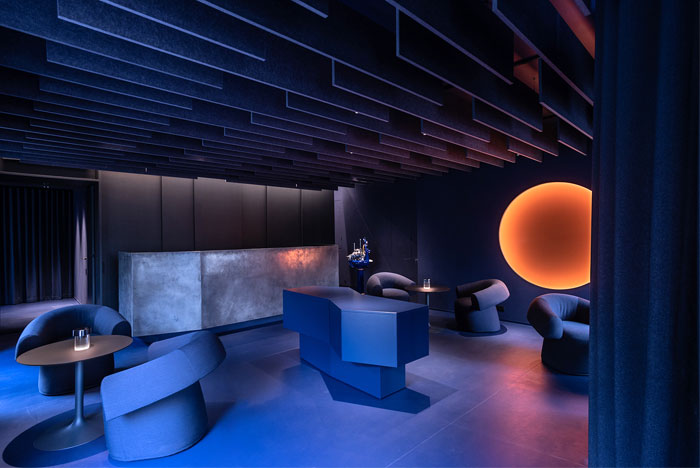 Through the entrance curtain, the lounge reveals the arrangement of selected furnishings and fabrics in blue hues. A large capturing light installation immerses the space in warm shades of blue and neon orange colors. The circular statement light composition is the centerpiece of the interior design by the Italian studio Visual Display.
A hand-applied metallic finishing coat covers the entire counter area serving as a backdrop to the dishes and food preparation. A geometric volume blends two separate components on wheels to form a portable cocktail tray. A set of 'Ruff' armchairs by Moroso adorn the lounge, while sound-absorbing paneling suspends from the ceiling hiding the light points and sculpting the space. Two large windows open onto the internal courtyard of the restaurant in total fusion with the natural element.
name: 'Blue Lounge' Agli Amici 1887; designer: Visual Display S.r.l.; design team: Rune Ricciardelli – Giulia Minozzi; location: Udine, Italy; photography: Alessandro Paderni;