ZIKZAK Architects have completed work on the office project for an architecture and design firm Levelstudio in Kazakhstan. The design of "Levelstudio space" was a real co-creation, because the client was also a co-designer of the space. In the process of work there was a magnetic connection with the customer and understanding from the word go.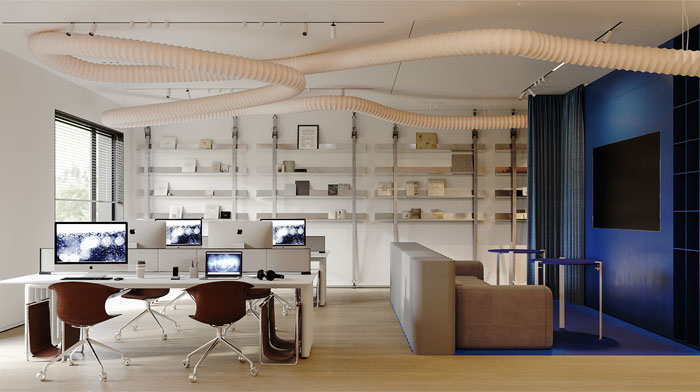 Architectural firm Levelstudio wanted not just a stylish modern office, where effective work will be in full swing. First, the customer saw a workspace that would create conditions for the interaction of knowledge and ideas. An office – creative workshop with large shelves with samples of design materials and professional books – this is how the client saw the concept of the project. The founder of the company wanted their office through interior design to reflect creativity, originality, ideology and close symbiosis between employees. The team also noted the importance of an ideal terrace as a cozy recreation and reloading area.
The 100 m2 workspace will include an open space, a meeting room, a terrace, a storage room, a kitchen and bathrooms with showers. All premises were planned ergonomically and with the most convenient logistics. Project name: Levelstudio space; Architecture firm: ZIKZAK Architects; Principial architect: Anastasiia Apostu; Design team: A. Apostu, I. Yashyn, T. Zykh, A. Klatchun; Project location: Almaty, Kazakhstan; Built area: Site area: 100 sq m; Interior design: ZIKZAK Architects; Client: Architecture and design firm Levelstudio, Kazakhstan.