Gluten Tag is the transformation of an old Bank Office into a gluten free Bakery. The project copes with two major problems: a very tight budget that allows making even less than the necessary and the elephant in the room, the obligation of building and accessible bathroom for the clients of the Bakery shop that will reduce even more the budget for the renovation.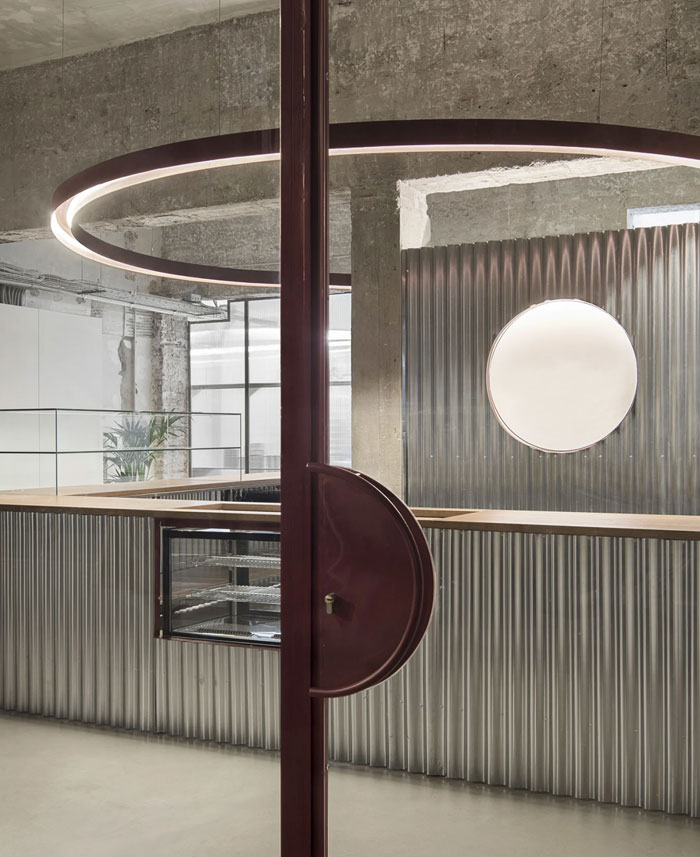 With an economy of means, the project tries to transform those difficulties into opportunities. The space has been cleaned out from all superficial materials and paintings, showing raw materials as the concrete of the structure, the bricks and stone of the walls, the space perception changes radically, showing the different transformations and scars over the years. The new bathroom is presented as a cube in the middle of the space; the whole counter evolves around this cube like a continuous path through the shop around this new artefact that generates another perception of the space.
As opposition with the rawness of the space, the counter is made with noble material as wood and an undulated metal sheet that enhances even more the opposition of the two worlds, the surrounding space and the Artefact. The illumination system of the shop is resolved with a circular red light that hangs over the new counter reinforcing this idea of continuous circulation around a space that gleams an reverberates.