Φλέρτ! Happened when we were asked to turn one of the busiest bars in the historic center of Kalamata
(Greece) into an all-day coffee bar. The architectural approach explored the concept of the boundary that emerged as the core design tool. The boundaries of the space were "expanded" to become appropriated by users, host functional uses and determine the store's relationship with the city. The standard shop window between interior space and city is redefined. A system of opening glazing frames put together a lively and porous facade, hosting the guests while also maintaining the visual and spatial continuity inside and out.
The inner boundary opposite the main facade expands and acquires substance to accommodate the linear kitchen. All the cooking processes that happen there are projected as choreography in the central space, transforming the kitchen into a background of constant movement. A contradictory condition is formed at the lateral boundaries of the interior. The border to the right of the entrance is stretched to be turned into a multifunctional counter bar. Τhe border to the left of the entrance is left blank, forming a transparent background. On the one, the boundary hosts the most dynamic and busy point of the space, while on the other side, the boundary is freed and proudly hosts the impressive pink neon sign of "Φλέρτ!".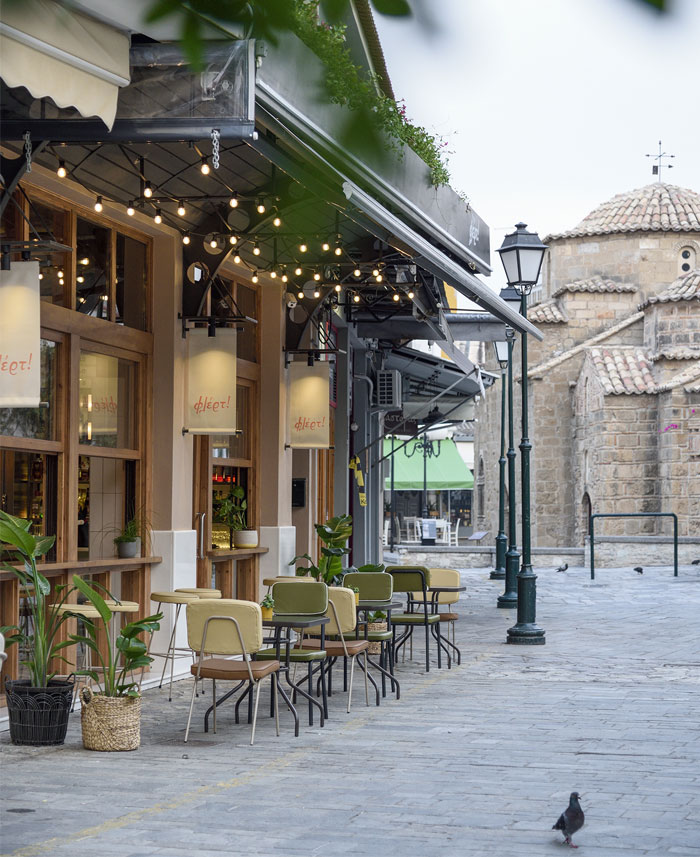 As for the project's materiality, the facade's structure, the custom constructions of the perimeter counters, and the blinds are expressed with wood in a walnut tone. The base of the perimeter counters is expressed with wooden frame constructions painted to mint color as a juxtaposition to the whole. Moreover, the choice of various wooden and metal seats with explicit vintage references attempts to convert the interior into a more welcoming space. Finally, the existing materiality of the floor and the ceiling is revealed as the original expression of the traditional colorful mosaic and the reinforced concrete composing the atmosphere of a contemporary Mediterranean Bistrot.
architect : Andreas Petropoulos / Architecture. Interior; Photos : Nikos Vavdinoudis / Ch.Dimitriou / studiovd;