The work of Richards & Spence is driven by a desire to elevate the life of inner-city Brisbane. The studio's design of the greater James Street precinct – comprising the awarded Calile Hotel and a collection of hospitality spaces – is a significant step towards this goal. Occupying a quaint corner tenancy on Ada Lane, Biànca is a welcome addition to James Street – a homage to Italian dining traditions, thoughtfully reinterpreted for its context.
Owners and operators Tyron Simon, Ben Williamson, Frank Li and Italian-born Bianca Marchi (the project's namesake) have instilled the restaurant with an authentic culinary approach. Pasta and bread are made in-house, while ingredients are sourced locally. Richards & Spence sought to mirror these authentic qualities in the interior, embracing form and materiality to celebrate and enhance Biànca's charming, community-minded ethos.
Perhaps Biànca's true hallmark is the saturated, terracotta-hued interior, playfully inspired by a set of orange Sabre Paris cutlery. Burnished terracotta tiles drench floors, walls, stairs and benchtops, creating a tactile and nuanced backdrop that speaks to the restaurant's Italian traditions. A gridded peach-toned ceiling is contrasted by concrete, plywood and brick accents, creating a harmonic contrast of lightly framed and robust elements. The result is a tonal exploration of peach, terracotta and nude shades that unify Biànca's interior with a glowing warmth and cheeky sense of personality.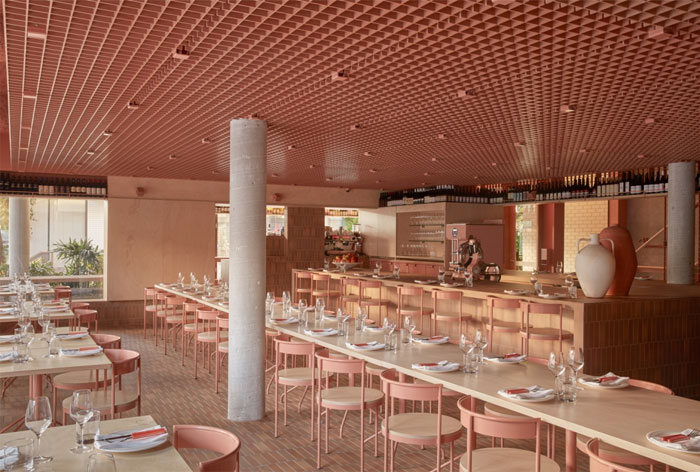 Richards & Spence's reductive approach balances timelessness and long-term serviceability, applying restraint and design rigour down to the restaurant's finest details – from handrails to cutlery, monogrammed plates and signature curled graphics. As a concept restaurant predicated on fun, Biànca honours the buzz of much-loved Italian trattorias brimming with wine, warmth and good company – what's not to love?
Photography: Cieran Murphy; Architecture: Richards & Spence; Interior Design: Richards & Spence; Build: Lamberts; Words: Hayley Curnow;