The inviting ambiance of this neighborhood coffee shop in Kyiv gives an organic, easy-going vibe without too many pretensions but with playful and cozy character. The exposed material palette (raw concrete, exposed wire, and abundance of red brick clay tiles and blond wood surfaces) is a blast of an easy-going everyday chill-out vibe.
The narrow long space baths in beautiful and abundant natural light, which inspires the usage of predominantly organic materials. The sun's reflection on the gorgeous clay-red ceramics, the soft presence of blond wood furniture elements (including the cute and ingenious idea of the borrow-coffee library) create a soft ambiance with cozy red and sand shades of light.
The exposed wiring extending on the raw concrete ceiling is a wonderful caring base for the airy elegance of the simple paper lamps, which are perfectly in tune with the rest of the organic, inviting, and unpretentious ambiance of this beautiful urban café décor. The accent of lush greenery – including the small half-circle garden pot clad in red clay ceramics – further enhances the warm, welcoming vibe of the organic textural selection. Preserving the expressive originality of the materials, the natural oak planks and plywood are coated with oil wax.
The textural richness of the raw concrete alternates with the exposed brick structures, in which red amber light shines on the direct sunlight. The mid-century modern and socialistic past hints can be observed in the furniture inspiration and arrangement. A ceramic block box hides the indoor part of the kitchen and the toilet space.
All and all the Café 128 offers a wonderful welcoming ambiance for a daily beverage while working- out –of- office or just chilling with friends- not ambitious, yet with unique character.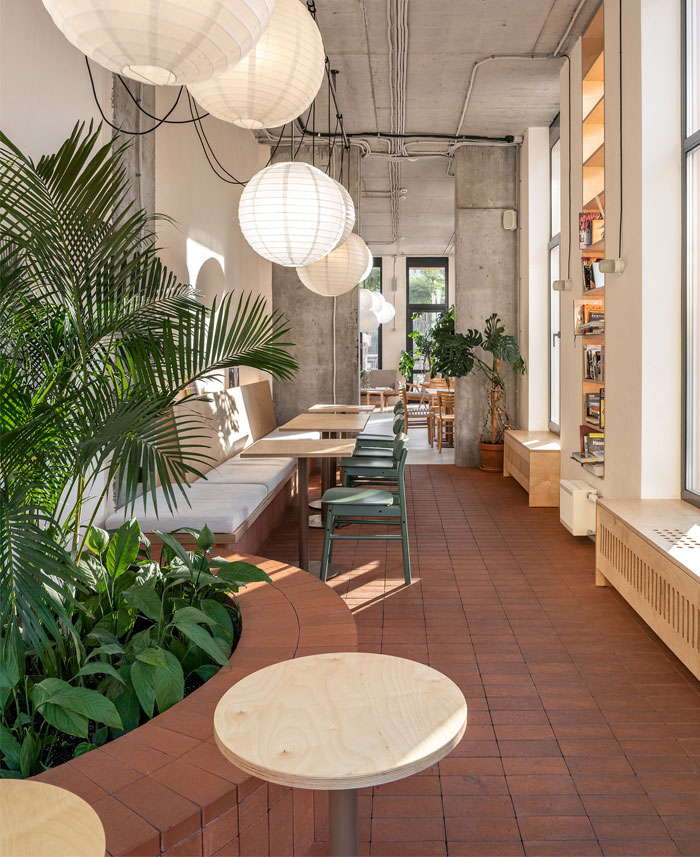 Architects: berezen studio; Type: Coffee Shop Interior; Total Area: 110 m²; Realization: 2021; Photographs: Andrey Bezuglov;