Mid-century modern beauty of design for young, dynamic owner – a graphic designer provoking and inspired artistic creation in the design creator Yevheniia Dubrovska.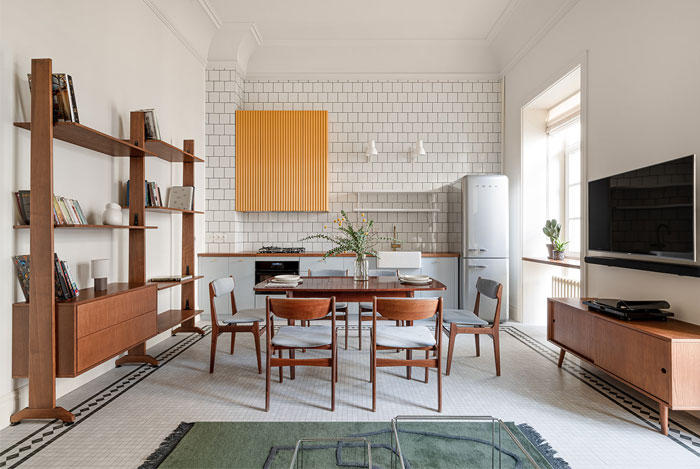 The space of this apartment located in the center of the historical heart of Kyiv successfully combines the modern purity of minimalist design compositions, the inspired artistry of art deco and vintage, creating a luminous infusion of contemporary clean lines and the romantic touch of historical and classic ornaments and features of the design. The traditional choice of creating an open space flow for the social zones- kitchen, dining, and living room – and more private, closed area for the intimate zones –bedroom and bathroom- in this project is enhanced by choice of materials and alternation between ceramics and wooden textures.
The open sequence of the daily zones presents us with this magnificent art-deco feel coming from the beautiful tile compositions and the high (4 meters) ceilings decorated with classic rim ornaments; on this base, a magnificent collection of vintage and mid-century modern pieces of future stands out. Some of the furniture comes from the owner's heritage; some are collected throughout Europe and restored in Kyiv.
Some (like the sofa and most of the cabinets) are custom-made from the sketches of this project's designer. The white tile selection that clad floors and walls in the main living area allows a dynamic and modern composition of furniture and decorative elements, maintaining a pure and luminous feel for space. In the bedroom, the extensive tile cladding is replaced with warmer wooden elements (as parquet and headboard).
Throughout the design, attention towards the minor detail (like fixtures with trendy inspiration – the brass zing tab and the vintage tub) and playful artistry of inspiration are the hallmarks of this elegant modem home design project. Photo credits – Yevhenii Avramenko;