The dash of creativity exuded in this dynamic modern design project composes a space of cheerful urban dynamic and modern functionality. The design team from Paintit Studio utilized the modest budget and the creative freedom given by the owner to their fullest.
The juxtaposition of colors (blue cube structure for a bedroom and red liquesce kitchen), materials, and textures gives a dynamic and playful spirit to the small urban home. In the open floor sequence of all living premises – kitchen, dining, living, and bedroom zones – the alternation of robust shapes and materials with oblong, soft, and flexible silhouettes gives a variety of visual expressions and a symbolic separation of functions.
The kitchen cabinets decided in red and white fallow straight lines and minimalistic expression. That clear-lined arrangement is followed by a soft modular sofa in light gray, giving a warm, cozy, and soft transition of living space into the bedroom space. Here the private bedroom zone is distinguished by the rest of the composition by clever, modern canopy frame. A design composition outlined again by the robust, cubical structure composed in more relaxed and calmer nuances of blue and gray. On the base of those juxtapositions in colors and shapes, small accents- a playful mustard yellow piece in the soft siting composition- and the dialog between the cubical bed frame and the oblong lamp and table composition add to the dynamic individuality of this small space.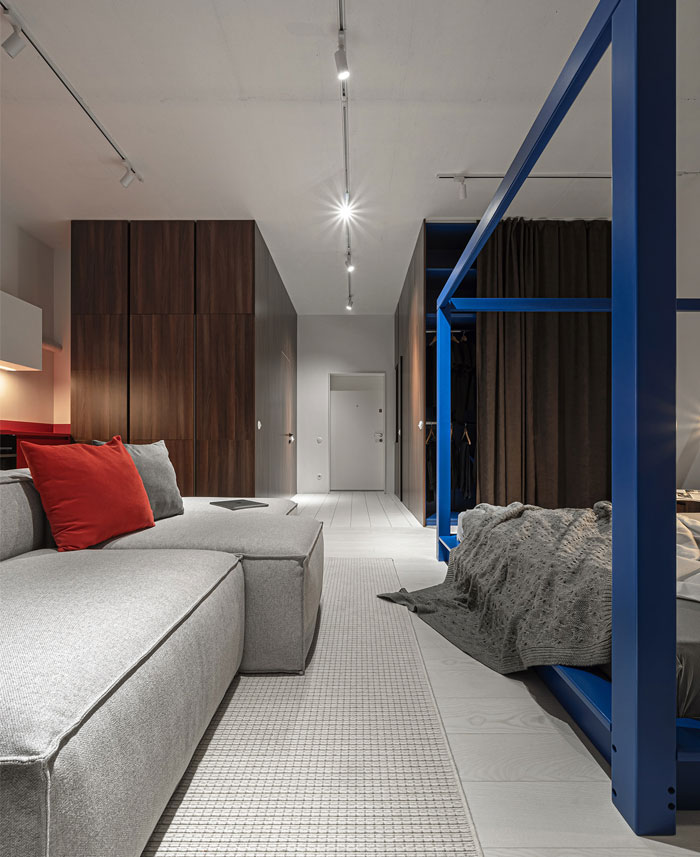 The ample storage spaces, including a walk-in closet, allow the artistic face of the apartments' design to keep its pure and minimal expression. The bathroom of this urban jewel is an art piece on its own merit – the mosaic created by broken pieces of tiles represents the spirit of the city Kiev. The ornamental arrangement is based on the fragmented silhouettes from the city history, including some iconic sculptures and structures of it, like the sculpture of the Motherland, the Monument of Independence, and the Arch of Friendship of Peoples. An art wall that completes the original and artistic spirit of this charming urban apartment.