A project conceived and delivered in the midst of the pandemic, Charnwood saw architects Inarc, builders S&K Group, and landscape designers Amanda Oliver Gardens work together to navigate the complexities brought on by the exceptional circumstances. The collaboration transformed the original Victorian-era terrace replete with 1980s interventions into a relaxed, welcoming and functional family home.
Navigating the restrictions and setbacks brought on by the pandemic caused the project to be carried out in stages. Forward thinking and patience were key here, as was teamwork, ensuring an exceptional result despite the challenging circumstances. The outcome is a home with a timeless quality, which makes the most of every inch of space.
The floorplan of the home has been reconfigured, transforming its maze-like layout, complete with 80s pastel tones, into a calm and easy-going oasis. Richly coloured floor tiles from Artedomus pave the way through arched doorways, which graciously hint at earlier iterations of the home. During stage one of the project, the staircase was pivoted 180 degrees, allowing the client's daughter better access to her self-contained space within the home. Stage two saw the beautifully wood panelled stairs extend up to the second-floor roof terrace where decking and wall cladding was completed by Esthec. Back on the ground floor, an outdoor dining area offers yet another space to inhabit, whilst surrounded by courtyard greenery by Amanda Oliver Gardens.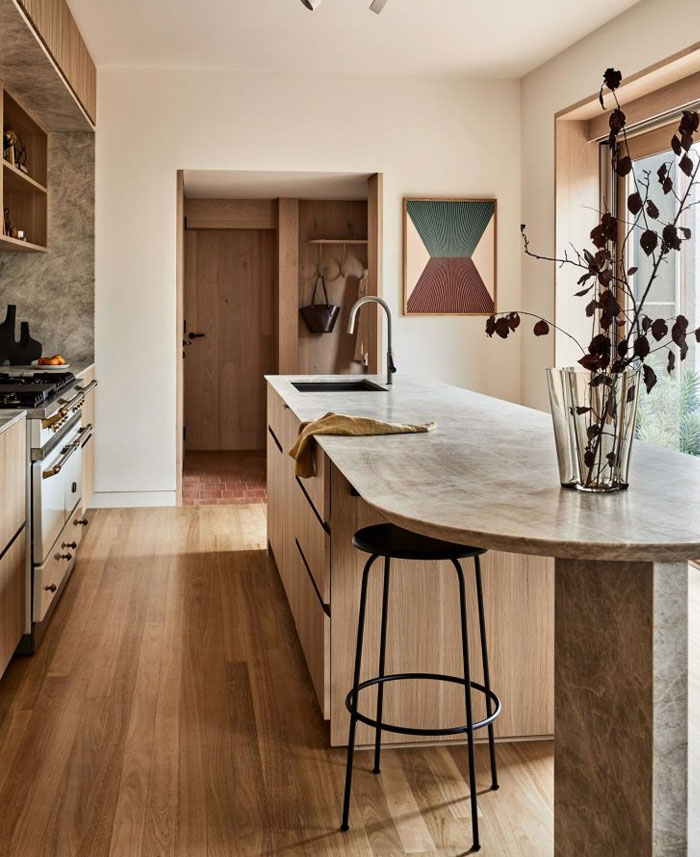 The come's considered details and relaxed, calming atmosphere is signalled right from the street entrance, where a solid wooden door with handle by Made Measure sets a steady, tranquil tone. The kitchen and dining room face out to the courtyard that runs along the side of the terrace, with natural light filtering in to offer a sense of openness to the spatially modest area. The restrained finish of timber wall cladding, flooring and joinery makes for a soft, warm space. A stove from Lacanche fits seamlessly in the kitchen, with handsomely proportioned open shelving above. An impressive stone benchtop, splash back and kitchen island bench, match the softness of the space.
With bespoke details like the deck, ever-ready for entertaining, and the elegant, compact and delightful drinks cabinet, this residence feels truly made to measure – belying the complexities that abounded during its construction. Its private and personal spaces, as well as communal areas that can adapt to a range of uses, are quietly resplendent, holding the residents of this home in good stead for whatever the future holds.