The call of nature has been heard in the design world as well. The tendency to search for sustainable designs, organic materials, shapes, and colors inspired by the greatest artist Nature has become more popular with big and small brands for architecture and design when composing a space to inhabit or work in. This tendency is picking up speed for the last decade, but the latest pandemic reality enforced some intriguing tendencies that took root fast and steady. This season the search for nature in our daily life is quite visible in some of the most celebrated design décor worldwide.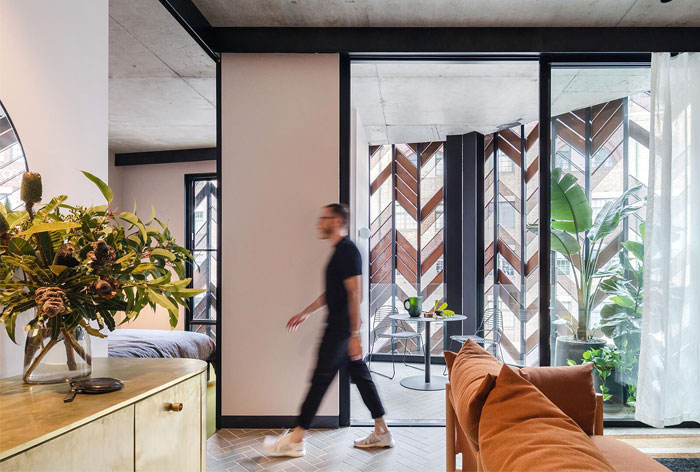 Living in Harmony With Nature
Natural and cozy materials such as linen and cotton, clay and brick, velvet, and ceramics are used to create a calming and organic environment in our homes. This calm is a natural sequence of the overall search of slow quality in our life; slow food, slow dynamics and less stress of the everyday rhythms, longer and more stable life for the things we use … Stable and time lasting durability of the furniture and decorative items of our home is a more sustainable and nature respecting approach that finds its central place on the interior design scene for this seasons.
This search for long-lasting and true objects that surround us also translates into a huge comeback of some retro traits, which only shows that the past had it right in some aspects. The colors are also in search of nature, warmth, and a palette of earthly tonalities from terracotta, green moss, and calming nude nuances.
The seasons of 2023 are also promising in terms of changes leaning towards the search for safe haven and harmony in our homes and diversifying their multifunctionality – office and a park, entertainment and fitness, food production, and hobby atelier. It is pretty straightforward for all that unsustainable way of consummation and exploitation of our planet resources can be tolerated no longer. So a change is unavoidable. Multiple changes afflicted on our daily lives, and the way we organize work by the pandemic restrictions also affect the tendencies in design art, architecture, and home creation. New movements appear and take charge of the vision of the feature – the Hygge gives place to the Dutch concept Niksen – which requires form us to slow down, relax, or even to do nothing – thus freeing space for human emotions, connections, and shared moments in our homes.
Trends That Will Shape the Next Decade
Some analysts and futurists research in-depth what are the changes that come out from this global pandemic that will affect the rhythms and different aspects of our daily lives, and here are some intriguing guidelines that will shape the future of our homes and our planet in the bigger perspective as the archetype of home.
According to Climate expert Julian Popov fast things will be left in the past, time to clean life on unnecessary objects and actions. It is time to slow down to a speed of consummation and exploitation that will allow us to prolong the feature of our species. For example, unnecessary business travels – at least half of them can be optimized via virtual meetings. The office space also becomes a bit absolute, and mini-study nooks and home offices will be far more efficient for the work a lot of people do – including government workers. General reduction of working hours and remodeling of office spaces to hub-like gathering areas, with minimal décor arrangements, with the main function for communication and inspiration, is also in the cards.
The work hours from 9-to-5 will also lose their limiting borders. All of that will change irreversibly; the space we inhabit – "my home – my fortress" will come back as a multifunctionality of our inhabitation spaces. The reverse – urbanization is also taking space – with the freedom of distance, virtual work –mote and more people will escape the big, overcrowded cities and search for a home in more natural and even wild environment. The emerging of virtual cities is more and more pronounced: art, culture, even education, and health communities form and take place as social structures replacing the heavy functions of the megalopolises.
Community and neighborhood connections and shared spaces accumulate more power and significance, giving security and space for the expression of values. Those lifestyle and value evolutions will reflect on the creation of our personal spaces and homes. Sustainability and location choices based on community preferences and access to gardens and parks, instead of work requirements, are only a small part of what this new flexible world offered for our homes.
Sensors that will facilitate more and more our lives are also a rising star on the horizon – from automatic vehicles to identification of images, from smart kitchens to thermodynamic tools for our home's optimal efficiency. Logistics and online shopping are only starting to pick, and this tendency will also affect the space configuration of our homes. The search for food independence will affect cities and small towns alike – from vertical gardening to hydroponic farms in our homes will find their place in the future home design. All of those existing changes are cleverly incorporated by inventive designers and architects into the home of our dreams.
One thing that the pandemic and the shutdown showed us clearly was the need for natural hint integrated into the home – from small balconies with flowers and herbs where we can enjoy the air and sun to elaborate backyards or living rooms with seamless connection to patios and gardens. Modern designers search to introduce as much natural light and fresh air as possible into our everyday lives through dynamic architectural connections between in and out. Thinking about the materials and the sustainability of our home elements is also a question on order for the feature.
Circular Design Guidelines
In the light of new sustainability needs and more conscious and delicate aesthetics in interior design that will search for a stronger and more respectful connection with Nature, here are some intriguing guidelines emerging on the world's design scene. The first aspect of our home design that needs to be addressed is quality, safety, and durability – it is finally clear that a good product remains useful for a long time and is possible to repair if needed. That tendency and search in the furnishing style of modern homes are particularly visible in the renewed love for retro stylistic – repaired iconic pieces of the design are gracing the new home stylistics artistically.
Another intriguing trend that gets stronger by the day is the multifunctionality and the possibility of maximum efficiency through different minimalist approaches. Clever designs for small spaces are offering a great variety of excellent and stylish ideas. But all those approaches applied by big names and artistic brands are more and more often realized in sustainable, recycled, or ethically harvest natural materials. Fashion is one thing; creating a home that corresponds with the needs of the time, the planet, and the changing ethics is another.
An intriguing trend is sustainability embedded in the newly built homes energy sources and water cycles. The development of advanced technologies allows relative self-sufficiency, maximum thought towards the house's footprint, and a good balance in the cycle of energy consummation for the homes of the next years. And not least is the fact that more and more designers, architects, and artists pay more elaborate attention to the ethical side of where their products, materials, and elements for project's construction are soused from. It's good to know that local artisans and craftsmen produce the furniture or decorative elements for your home because supporting our communities is really the best way to build a home.
Colors, Materials, Textures – Trends That Are Shaping the Future of Housing 2022
Shaping our homes, we naturally follow the tendencies of the years and the events that surround us – so it is no wonder that in those stressful and unpredictable times, we create a loop of wool and cotton to anchor us in the safe hug of our homes. Raw and almost unfinished surfaces and materials allow each one to develop and express their own individuality and shape their cave in a way that will give them security and comfort. And natural, clean lines are on the rise, carrying a sense of freedom and purity. Our return and search for the bosom of Mother Nature are clearly pronounced in many aspects of our life, so the home creation tendencies are not an exception.
More than ever, our interiors are enveloped in soft materials and textures. Clay, terracotta, wooden surfaces, recyclable or sustainable materials are preferred not only by visionary designers and architects but also requested by the homeowners and manufactured by renowned brands. The advancement of technologies feeds the brands creators imagination with a new and new way for creating furniture elements – from recycled textile and plastic to more unusual material sources like the filtered coffee and food pilings.
In Terms of Materials and Colors – the Call of Nature is Clear
Ocher for a warm home. Nuances that bring the sun and each in one – yellow and terracotta combined in one palette of color with many warm faces. The versatility of those nuances is the possibility for neutral or a strong presence of additional color accents, and it is a great partner for the rest of the home's color palette. Ocher gives a snugly, warm idea to the composition by being natural and not intrusive. That base for the color composition of the home is quite an advantage for modern dynamic design.
From the materials selection for modern design – the return of the brass is quite strong. It indeed reappears on the design scene periodically from the 1970` with solid comebacks. But there is a good reason for that. Its golden sunny shine gives brightness and charm to any premises. An amalgam of copper and zinc, this almost noble metal grounds the décor with its raw structure and honest presence.
The touch of this material, applied in interior compositions, can vary – from delicate presence in door handles and small decorative elements to functional defiles (like water tabs, lamps, and kitchen islands). Creating a sophisticated atmosphere by its simplistic stand, this material is quite a character to be explored by creative designers.
A Touch of Luxury – Marble in the Bathroom
So for this season, the presence of marble in our bathrooms is key. Its luxurious natural presence creates the character for this intimate space. And although luxurious – marble is also quite practical- easy to maintain, durable, thriving in wet environments, with minimal emission in the ecosphere, this beautiful earth stone is noble and character-defining. A perfect artistic choice for vitalizing the bathroom premises – both timeless and hot and trendy. And as we know, well marble has an intriguing variety in colors, nuances, veins, and textures. Another plus to choosing this unique natural material for your bathroom design composition is that it combines beautifully with lots of other noble materials – wood, brass, copper, metal or matte black ceramics – anything goes.
Natural Fiber Furniture and preferable oblong shapes are another big trends in interior design, which brands and artists are interested in for the homes of the future. And speaking of materials – wood and concrete are preferably used in their purest state. And a funny note for a grand finale – the preference for Chubby Design is quite notable on the modern design scene. A lot of chairs, coffee tables, couches, and even lamps' design are with distinctive voluminous curves and rounded corners. Those shapes and curved lines certainly add to the cozy, safe, and soft appearance of our sanctuary – our homes.
With those main guidelines for the newest interior design trends 2022/2023, we want to remind you that there much more important things in life than material processions, but still the art of creating a home is a drive embedded in our archetypes. So, enjoy creativity, search for stability, sustainability and safety and utilize in full consciousness and care the new technologies, ideas, and circumstances.