Vancouver-based interior design Ian Lee has designed the interior of the LIFE micro-apartments in South Korea using birch wood to offer tenants pared-back spaces that they can personalize. Located in Seoul's Gangnam District, the apartments form part of a 16-storey co-living building for young adults, developed by co-working-space provider Fastfive. The block contains a total of 140 rooms, which vary between 16 and 23 square meters in size, alongside shared living areas that Vancouver-based Lee also designed.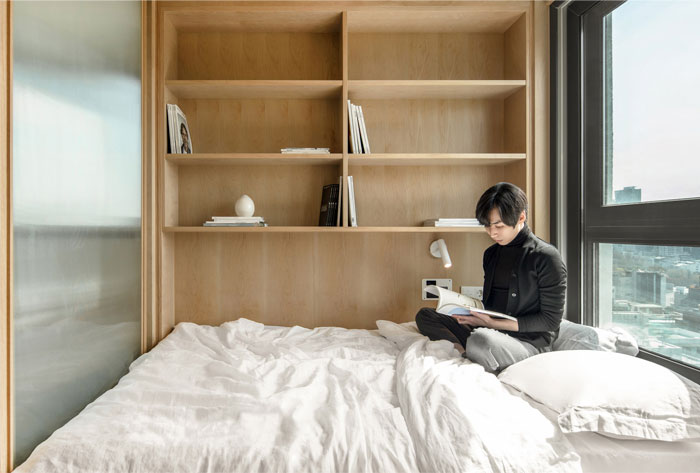 The client's brief called for a co-living space with simple yet refined and considered design. As the private studios were going to be small, designing efficient storage was crucial. Homelike, warm and cozy were among the words that repeatedly appeared in the brief.
The overarching goal for the interiors was to evoke a sense of home. Like in many densely populated cities, most young adults in Seoul struggle to find homes as housing prices climb. The co-living space and the community it would build are hoped to be an accessible alternative to traditional housing options that can eventually give its residents a sense of belonging.
Minimalist approach was chosen in search of a balance, where the space feels timeless and comfortable as it is, but also like a blank canvas for tenants to personalise. Birch was used throughout to bring a warm, airy and friendly feel into the small space. Birch wraps a continuous millwork wall on one side of each unit, seamlessly incorporating appliances and storage.
Soft spatial elements like arches and curves were used to infuse warmth and emotions into the rental homes that could otherwise feel generic, cold and utilitarian. Some units have sliding glass doors that divide the bedroom from the rest of the space. The translucent reeded glass lets tenants create a separate space when needed, while still letting the natural light in.
Upholstered nooks and window seats are incorporated in all units. While each unit is designed in a highly space-efficient manner, these nooks are designed to be a flexible and multifunctional space that users can define in their own ways. All residents have access to a communal kitchen, workspace, lounge, gym and rooftop garden that help foster a resident community.