Lilya Brik was a hostess of a renowned literary and artistic salon in the early 20th century in St. Petersburg; she was called "the muse of the Russian avant-garde." So the design and the concept idea of this fashionable restaurant and rooftop bar, part of the hotel complex in Odesa, are closely linked with the name they carry, "Brik". The design theme composed by the creative studio balbek bureau (with which we had met you before) used their unique signature, combing bold ideas, artistic inspirations, and contemporary feel to honor the name and the idea of this avant-garde design project.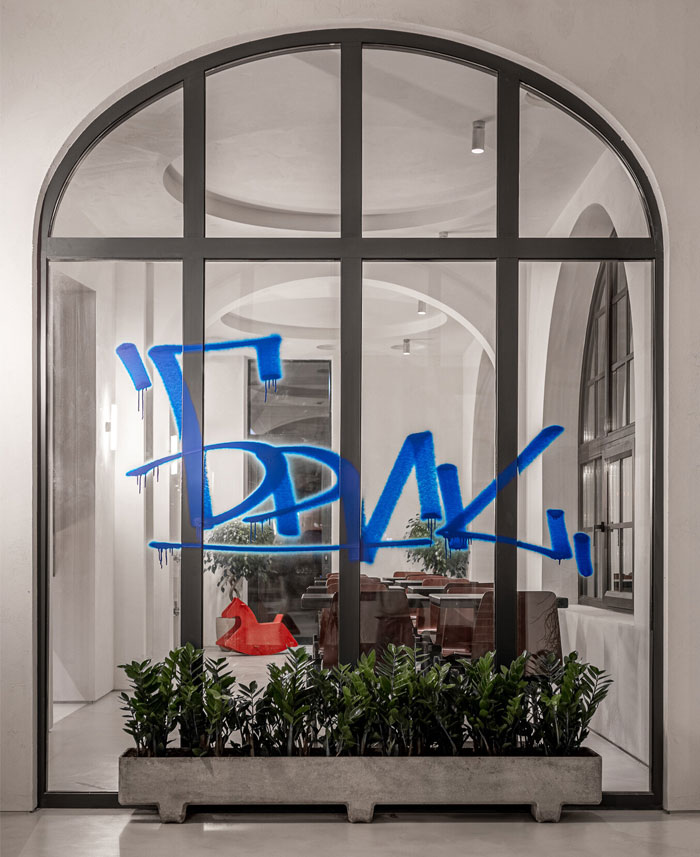 In an explosion of ideas, the restaurant design combines the unusual and the traditional – here, reflecting metal surfaces are adorned with bold matt colors and living plants, playful design touches are paired up with simplistic straight lines. The inspiration of modern minimalism meets with the wink of an elaborate classic. Accents of pure, saturated colors, characteristic of the avant-garde, punctuate the straight lines executed with shining metals and polished concrete structures.
Three halls comprise the restaurant's ground floor, and the first one is where the lobby of the hotel and the restaurant meet. From here, a long stainless steel bar, with an intriguing pattern made through heat treatment, envelops a custom made brick red structure. Throughout the space, vital green plant accents and fascinating vintage furniture pieces give strong individuality to the design composition. The vintage inspiration of the furniture pieces comes mainly from the '60s and '70s and the avant-garde era. Iconic pieces like the Bauhaus design of the Wassily chair, the school chairs, the low solid metal round tables, or the metal mesh of the woven dining chairs interact strongly with the design idea's artistic inspiration.
Architects: Slava Balbek, Viktoriia Didych; Project Manager: Yana Laskavenko; Project Area: 245 sq. m.;
Project Year: 2020; Location: Odesa, Ukraine; Photo credits: Slava Balbek, Maryan Beresh;