Sustainability, strong organic materials palette, and close connection with nature are becoming more and more important for modern homeowners, architects, and designers. This contemporary renovation of a multi-leveled apartment in Barcelona is a gorgeous example of how strong, expressive, and natural material can create a rich, although minimal living ambiance.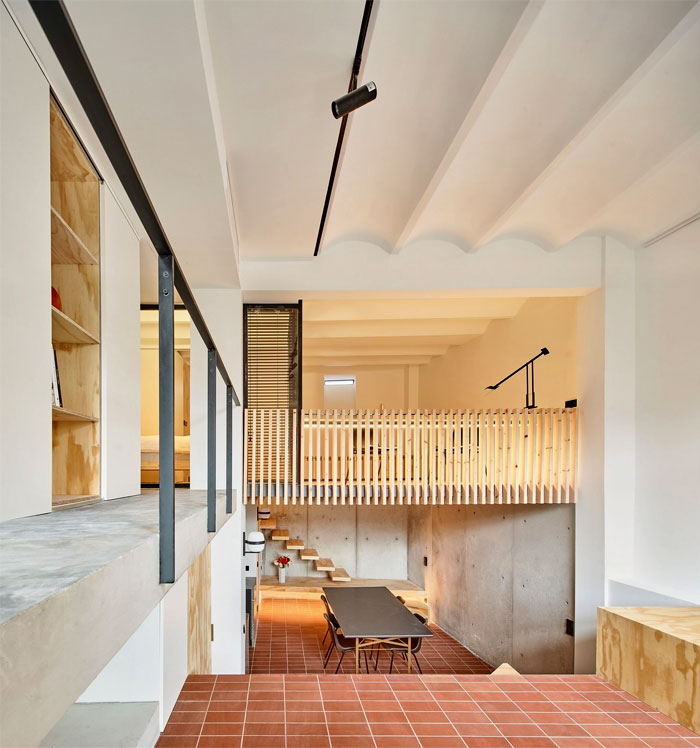 The architects from Mas-Aqui studio created a dynamic and flexible spatial composition of the three mezzanine levels connected by a bespoke staircase's sculptural and vibrant beauty. An intriguing dynamics composes this central for the interior composition design element – suspended, and small wooden steps are attached to massive concrete blocks. This dynamic idea is giving a visual and conceptual juxtaposition between solid and fragile, horizontal and vertical, suspended and "set in stone". Although bouts of the materials (like the whole materials palette of the apartment) are organic and close to nature, they give an intriguing contrast and entwinement of opposites.
Other expressive and organic materials ware unseeded in the décor composition as well – beautiful terracotta tiles give a warm accent to the lowest level, where the kitchen and dining room are situated. Purity and functionality are introduced by the abundant usage of plywood. Even the name of the project -"Yurikago" coming from the Japanese word meaning cradle- is given because of the thin wooden stripes supporting parts of the mezzanine levels.
The space's overall feel is one of lightness, contemporary minimalism, and purity with a touch of artistic and bespoke character. The social zones are located on the second half level, enjoying the natural light coming from the large windows. The entwinement of terracotta, wood, cement, terrazzo, and marble (just check out the gorgeous kitchen islands and countertops) gives a pure and organic feel to the home environment. Thin lines (a very modern approach to contemporary furnishing and décor), minimalism in colors and silhouettes, dynamic spatial arrangement, and organic base of the materials palette – a jewel of modern design and, of course, is coming from Barcelona. Photos: José Hevia;