Honestly, many years ago, when I first heard of the Mid Century Modern design trend, I was a bit skeptical – what will this be precisely? Isn't there a contradiction in the name – both modern and vintage? But when one gets to know the details of this American design movement and its specific expression in the interior, product and graphic design, architecture, and even urban developments – the name becomes self-explanatory.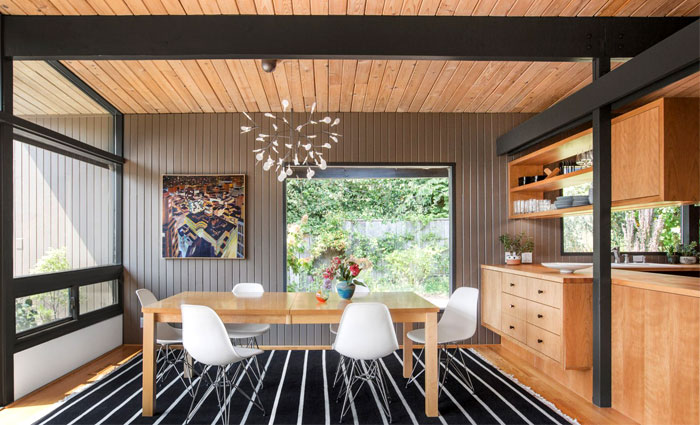 The clear, characteristic features of this design stylistic – that became popular from roughly 1945 to 1969 carry very explicitly both the vintage hints of its time of origin and the search for purity of lines and expressions in modern minimalism. This significant design movement and interior decor stylistic, now recognized by scholars and museums worldwide, is characterized by clean, simple lines and honest use of materials. It generally does not include decorative embellishments. Still, it likes to experiment with colors and materials.
In this article, we have selected some of the most iconic and impressive modern designs for kitchens influenced by the Mid Century Modern stylistic. Colors, materials, design ideas, and renowned manufactures and designers that will help you achieve the authentic Mid Century Modern Kitchen look are arranged here in different categories and paragraphs for easier facilitation of your kitchen idea project.
Before exploring in-depth, the dynamic variety of combinations, colors, materials, styles and Mid Century Modern Kitchen cabinets that will help you achieve the adorable Mid Century Modern Kitchen outlook, some short introduction into the history and renown artists of this movement may be helpful to better understand its philosophy and aesthetical value.
The Mid Century Modern movement in the U.S. was an American reflection and a local read on the International and Bauhaus movements very influential in the world at the time. The works of Gropius, Florence Knoll, Le Corbusier, and Ludwig Mies van der Rohe had a significant effect on this design trend's overall stylistic. Brazilian and Scandinavian architects were also very influential at this time, with style characterized by clean simplicity, large structures, and integration with nature. The final result combined the trend of some of the best ideas and arts of the Mid Century Modern architecture and was frequently employed in residential structures to bring modernism into America's post-war suburbs. From this style, the modern design had inherited the love of creating structures with ample windows and open floor plans, and the so, hot trend, of late, of opening up interior spaces and bringing the outdoors in.
So, obviously, nowadays this trend in interior design has its strong comeback with a new, modern read on materials, shapes, technologies, colors and overall aesthetics, while still preserving the simplicity of the Mid Century Modern design inspiration. Let's explore how can we introduce a Mid Century Modern outlook for our kitchen design, what kitchen cabinets or kitchen islands we can use for most dramatic effect, and what are the colors and materials preferred by modern designers influenced by this stylistics.
New Materials Shaped New Designs
In the last decades, new technological advances and alternative manufacturers brought to market many new materials that can be successfully introduced into Mid Century Modern Kitchen designs. Modern designers show flexibility and liberal use of traditional material, such as wood and stone, alongside non-traditional once, such as metals – brass and copper – glass, vinyl, plywood, Plexiglass, and Lucite.
In that regard, floors are an excellent place to start – because they can determent the final outlook and materials composition for your kitchen idea. Traditionally, Mid Century Modern Kitchen floors were finished in natural stone materials such as slate, bluestone, travertine, or terrazzo. If you, like us, enjoy the look and organic feel but don't have the budget for it, many new tile's designs have the same look but at more affordable prices and with less maintenance. Other materials that work with the mid-century vibe are cork and wood, or plywood and laminate.
In fact, of late, new types of laminates have hit the market, and they are far more affordable and look so much better than they did back in the 80-s. Contemporary manufacturers and designers use new types of laminate that mimic other materials quite successfully. And besides being more affordable than natural materials like various stones and marbles, they are indeed durable. At present, the laminates are a perfect material not only for the main finishes and structures of your kitchen project, but it can form quite acceptable Mid Century Modern Kitchen cabinets. And, the colors that are available are a natural fit for a Mid Century remodel.
And speaking of colors, not only are materials innovative in the Mid Century Modern Kitchen's designs, but a vast range of colors, including colors from neutral to bold, and graphic use of black and white are also quite often used in modern kitchen cabinetry, flooring or other kitchen elements.
Round Dining Table
Another highly valued characteristic of modern materials (apart from their affordability, durability, and easy- maintains) is their flexibility and the creative possibility of forming complicated shapes and ideas. The reason why Eero Saarinen was able to mold the rounded contours and pedestal for the iconic Tulip chair and table he designed in 1956 and Eero Aarnio was free to sculpt his futuristic-looking Ball chair in 1965 was that bent plywood, fiberglass, foam, aluminum, steel, and plastic laminates were all quite malleable.
Celebrating the materials plasticity designers influenced by the Mid Century Modern stylistics – let the shape and the surface speak for themselves. Futuristic shapes and unusual fluidity are quite often used as a central piece in these kitchen's compositions. Dynamics in colors are also to be expected – the earthly hues characteristic for the early examples of the style eventually give way to the brighter accents influenced by f the Space Age and Pop Art trends. So, unusual, fluid shapes and materials and splashes of bright color are totally acceptable when composing your Mid Century Modern Kitchen assembles. Just keep in mind that the Mid Century Modern stylistics celebrates the honesty of the materials used.
How to Furnish in Mid Century Modern Style
When creating your cooking space, it is logical to search for something that gives comfort, inspiration, and functionality alongside a unique expression of your personal (or family's) dynamics. Luckily the Mid Century Modern Kitchen stylistics can provide all of those – it has time-proven functionality and durability, is eccentric enough to give artistic and personal vibe without making the space uncomfortable. It is also a great inspiration for designers and manufacturers through times, so supplying a great variety of its key elements should be easy and in an abundance of choices.
Details that compose a stylish Mid Century Kitchen idea, such as colorful appliances, pattern countertops, expressive tiles, and flat front cabinetry, give a wonderful retro taste to contemporary kitchen ambiances. Adding just a flavor of Mid Century Modern design can be enough, or you can go the whole nine yards – either way, this stylistic had proven its staying power and a wide range of positive characteristics.
Mid Century Modern Kitchen Cabinets
The kitchen cabinet's stylistic and functionality detriments so much of the kitchen's final outlook and comfort that careful consideration of their configuration, design, material, and characteristics is absolute must when developing your creative kitchen idea.
Luckily for contemporary lovers of Mid Century design inspirations cabinets, both modern and Mid Century Modern Kitchens are characterized by sleek and smooth cabinetry. This minimalism of silhouette is characterized by flat, single piece paneling for doors and frons, frameless constructs, and clear shapes. The very comfortable and dynamic solution of sliding doors is an absolute classic in both Modern Minimalism and Mid Century Modern design stylistics. So it is a good decision for that kind of projects.
When it comes to materials selection for your Mid Century Modern Kitchen cabinets, you can go either with classic choices (wood, wooden veneers with – or without glass cabinets for exhibiting collectibles or vintage design elements) or you can go wild with modern materials selection: plywood or shining gloss lacquered. As long as you keep the design of your kitchen cabinets simple and sleek, the outlook of the Mid Century Modern stylistics is preserved. And speaking of cabinets configurations as we mentioned in the beguiling, the Mid Century Modern design is the initial inspiration of open floor plan concepts and configurations.
So, including the kitchen into the flow of daily social areas, in an open plan, is a typical representation of both – the stylistic and the modern requirements of functionality. But consider the gallery style configuration for your Mid Century Modern Kitchen concept. It's a very efficient and stylish choice with strong historical roots into the stylistic we're exploring today. The long space with counters running down each side is both included in a fluid relationship with the adjoining spaces and functionally separated with a stylish gallery like stand out exposition. Some very exciting mid century modern kitchen ideas can be found and help you select the most agreeable for you.
Mid Century Modern Ceramic Tiles
Another element with standout place in the mid-century modern kitchen designs is the ceramic tiles. Quite popular as a countertops or backsplash decorative accents in the Mid Century Modern designs, the ceramic tiles offer a great variety of choices. Color, shape, design are all flexible according to your chosen stylistic.
Contrasting fugues, decorative dark rims or metro tile configurations are quite hot on the design scene right now and can go perfectly with the modern part of your Mid Century Modern Kitchen. Ceramic tiles – being so, much more stylish, hygienic, and organic can successfully replace the utilitarian linoleum checkerboard floors – so popular in the 1950, but totally outdated now.
Don't be afraid to use different colors, configurations, and patterns when dosing your Mid Century Modern Kitchen tile aspects. Creativity is welcome in the sleek and smooth overall aesthetic of this design stylistics. Check some stylist examples below for an inspiration.
Mid Century Modern Lighting
Lighting, as we all know, is an essential finishing touch of any design configuration, a design element that enhances or smoothens some of the chosen compositions' features. If you have selected a Mid Century Modern arrangement for your kitchen design, you are in luck because the lighting stylistic of this concept is usually so playful, artistic, and creative that no additional decorative elements are needed. Perhaps you have noticed so far that a statement pendant lighting is a significant component of the Mid Century Modern Kitchen.
Here you have the freedom to choose the color: gold, olive green, mat black, or bright yellow; the material: trendy brass and copper, classic glass, or some unusual material are all possibilities. And the artistic shape that matches the rest of the chosen Mid Century Modern Kitchen details is also a prerogative of the design lamp piece. Choosing some classic central pedant lamp design from the era of the Mid Century style is a good way to indicate the trend your kitchen is following.
Apart from that, the lighting of the rest of the kitchen can easily follow the modern needs and tendencies: recessed lighting and under cabinet lighting can be introduced in order to maintain minimalism and functionality. And of course, the natural light penetrating from those large windows openings and open-floor plans so characteristic for the Mid Century Modern aesthetics. Adorable results can be achieved with some hidden LED installations or rim-frames.
Colours
And speaking of adorable – your best bet to achieve that result is by color play. Luckily the Mid Century Modern stylistic in kitchens is open to experimentations in color. The simplistic and sleek lines of the Mid Century Modern cabinets can be refreshed by mint green, pink, or burnt orange, which are very much in tune with this design trend's retro spirit. If you prefer something with a more classical taste – monochrome colors are timeless – white, beige, grays can form an excellent and stylish base for modern kitchen with Mid Century inspiration. But if you want some playfulness and vitality, use a single pop of color, giving accent and a whimsical touch.
Light pastels or earthly hues – they all sit beautifully with the clear lines of the mid-century modern cabinets and kitchen islands.
Dark with sparkling elements is also quite acceptable for both modern and mid-century styles and can give strong individuality to your contemporary kitchen project.
Scandinavian Kitchen Style
There are many meeting points between the basic characteristics of Scandinavian kitchen styles and the Mid Century Modern aesthetics – large open spaces with vast windows, simplicity of lines, and minimalism of textures. And although the contemporary Scandinavian homes design has a distinctive organic taste – affinity towards untreated wood, granite, or marble countertops – there is a purity that can be found in both kitchen design styles.
After all, Scandinavian design is one of the European ancestors and inspirations for the mid-century modern development. So, a tasteful mixture between those hot kitchen design trends can be quite apt. Try (if you have the space) to use large surfaces, monolith structures, and lines that lead the gaze in one open continuum.
The choice of materials can vary from the organic purity of wood, stones, luxurious marbles, and jazzy metals (such as brass and copper) to more cost-efficient ones (as we mentioned at the beginning of this article).
The color combinations also have a wide range of possibilities, although the Scandinavian stylistic favors a paring of dark accents with blond wood or white tops with dark or natural brown and beige bases. One is sure – a great final result can be achieved by combing those two hot styles – the purity of the Scandinavian and the freedom of the Mid Century are a great fit to any kitchen project.
As you probably saw from the images we have selected for you – the Mid Century Modern Kitchen design combines a wide range of design expressions; they can by artistic, they can be playful, they can be minimalist or elegant, modern or retro, and they can be stylish or adorable. It's up to you what mixture you will be cooking up in your imagination and in your kitchen.