This renovated sunny apartment in Bratislava, Slovakia, is pretty close to my dream apartment design. It combines effortlessly organic and modern aesthetics, rich history with a purity of expression and soft tonalities that do not look meek thanks to the concrete and wooden structures, which introduce a hint of industrial rawness to the bonbon pinks. Taking the original 1950s bones of the space as a start and exposing them (wooden ceiling beams, row concrete structures, and beautiful red brick accents), the designers from Kilo/Honč created a dynamic and sunny home with a distinctive character.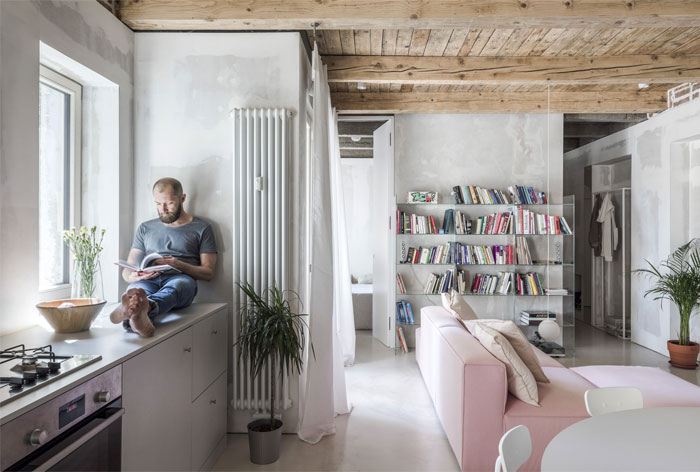 The space offers intriguing and dynamic layout-configuration, a feature enhanced by glass partitions (in the bathroom, for example, large curtains can covert the transparent glass walls of the cube, offering a possibility of privacy) and dynamic sequence of intriguing materials – mirrors, concrete, metal, glass, and wood. The day-zone is located in the middle of the plan, inviting for rich social interactions and family time. Here a large kitchen unit connects with transparent bathroom cubical, a soft loggia and living space design invite for chill out and the entrance zone clad in mirrors – thus expending the space and blurring the borders between beginning and end of the home – ads a whimsical touch.
The kitchen and dining zones possess the same modern spirit and lightness typical for the rest of the apartment's design. Here the tailor-suited furniture pieces and metal accents including the white round metal table surrounded by mismatched chairs ads to the playful, artistic, and light spirit of the décor composition. The same goes for the living room décor composition – light modern future elements – custom made metal frames, bookshelf and expressive material base with a hint of boho and industrial are softened by the inviting modular sofa in the center of the space decided, nonetheless, in bonbon pink.