In April 2016, a group of designers came to Vitra's factory in Germany. Standing in front of the Vitra Fire Station designed by Zaha Hadid, our feelings were complicated. The great architect has left us, but the solid concrete and sharp lines of the building are vigorous and carry forward her design ideas.
Vitra is quite influential in the design community. Pritzker Prize winners including Frank O.Gehry, Alvaro Siza, Zaha Hadid, Tadao Ando, Herzog & de Meuron and SANAA have conceived buildings for the brand, while design masters such as Charles and Ray Eames, George Nelson and Antonio Citterio have worked with it and create lots of classic furniture, making it a legend. NET OFFICE FUNITURE is a Shenzhen-based furniture supplier, which sells products of various well-known brands such as Vitra, Milliken, Boss, etc. It entrusted Super Normal to transform and upgrade a showroom that displays Vitra's products.
Situated at OCT LOFT, a cultural and creative park in Shenzhen, China, the old showroom had been put in use for several years and required adjustments, in order to bring brand new experiences to customers. As conceiving the design, we tried to figure out how to pay tribute to previous generations of design masters and how to tell the stories of the brand. Vitra's brand spirit is in line with the cultural and creative ambience of the site. Taking this as the starting point, we intended to create something different, with the space serving products whilst incorporating product concepts into the spatial design. Just like the long-lasting design of Vitra's products, this space doesn't chase fashion, but seeks for classic eternity and ingenuity. Hanns-Peter Cohn, Vitra's the Chief Executive Officer, once said that Vitra sells not only design, but also long-lasting spirit and value.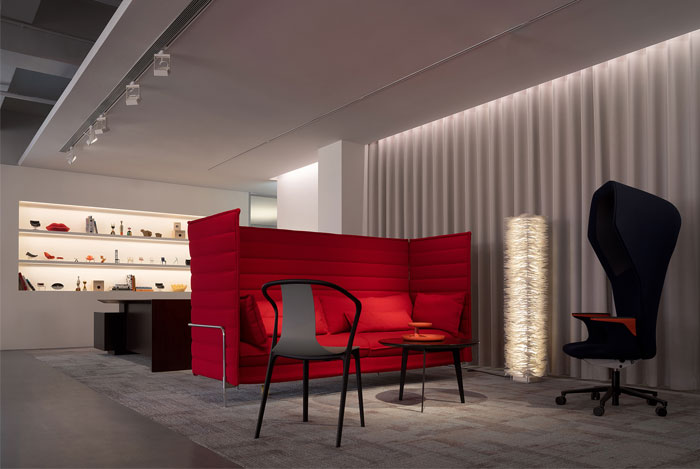 The old exhibition hall was a closed space. In order to fit into the Vitra's design spirit, we introduced daylight into the space to produce a natural and comfortable ambience. The color rendering quality of natural light is almost perfect, which is indispensable for enhancing people's experience of the architectural space and products. Bringing in natural light is the most crucial step, which breaks the previous closed spatial pattern and hence helps to present the original properties of the products in a perfect manner.
The design concept of the elevator hall pays tribute to the museum that Herzog designed for Vitra in Switzerland. The overall color palette of the hall is in stark contrast with the foyer. It is worth noting that the conventional sense of humbleness of the access control system has been abandoned, as the system is integrated into a small black "house" on the wall, which is quite unique.
Classics are constantly being renewed, by either the introduction of new environment or innovative design. The foyer is characterized by a fair-faced concrete wall and a piece of furniture from USM — a Swiss brand with a history of over 50 years, which is known for rationality, modularity, confidence and user friendliness. With infinite possibilities for configuration, the furniture is like a Lego toy, which can present variable forms.
Vitra's most iconic designs are showcased at the entrance. Among Vitra's classic products, chairs are most representative. Design masters such as Charles and Ray Eames, Verner Panton, George Nelson and Sori Yanagi have worked with the brand and created plenty of masterpieces. The steps serve as a medium for product display, while also providing an event venue when necessary.
Project name: NET OFFICE FURNITURE SHOWROOM; Spatial design: Super Normal Spatial Design Co., Ltd.; (WeChat ID: supernormal_design) Location: Shenzhen, China; Design directors: Yang Jianxun, Wu Minwen; Chief designer: Wang Chuangzhe; Design team: Guan Tianda, Yang Mei, Zou Jingwei, Li Min, Xie Huang; Area: 1,100 m2; Start time: December 2018; Completion time: August 2019; Furniture: Vitra, USM; Lighting fixtures: Belux, Kreon; Main materials: fair-faced concrete, steel, wood, paint; Construction firm / team: Yicheng Engineering Co., Ltd. / Jin Chen, Lao Jingyang, Xie Qide; Photographer: You Hongxiang; Client: Shenzhen NET Office Furniture Co., Ltd.;