Aiming for a home within, but not of, the landscape, the Rob Kennon Architectural studio created this modernistic structure from metal beams, glass façade, and lattice shutters that creates a dynamic tension with the surroundings while being fully embedded in it. Submerging two-thirds of the building's footprint beneath the ground, the architects cleverly used the restrictions of the site, and the result is a building that appears to float above the ground, barely resting on it, next to the beautiful water premises of the surrounding. Openness for the main living zones, secured through large floor-to-ceiling glass walls, offers a magnificent summer view toward the seacoast and the surrounding vegetation.
Relaxing and luminous merger between pure and simplistic modern lifestyle and the natural seaside dynamics- this is the Bluff House resting on the Australian sea coast. The cantilevered main building pavilion hosts two master bedrooms, living space (with trendy kitchen, dining, and living room combo) and beneath the surface cozy children's room and playroom resign.
This intriguing house project sited on the Australian coastal topology offers an intriguing juxtaposition between man-made building and landscape, between open above-ground premises and cozy, protected sanctuary beneath the ground. And this ideological tension finds the balance between home and shelter, detachment, and connection. The materials palette creates a natural connection with the surrounding; pure and warm touch comes from the extensive timber cladding and custom-made structures, granite and terrazzo slabs secure the cool vibe and easy maintenance of modern lifestyle dynamics.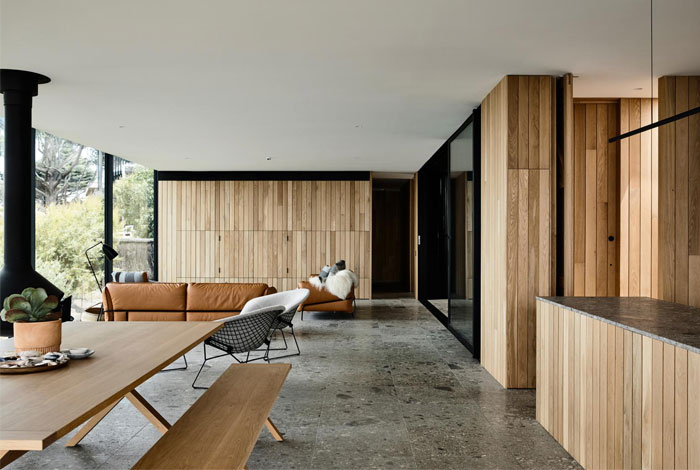 The simplicity in the design guarantees that the views penetrating through the large window openings become a significant protagonist of the décor layout. We love the dining and living room exposition; simple and elegant furniture pieces (only wooden benches and table for the food consummation and unpretentious but trendy and inviting sitting arrangement, with fashionable suspended fireplace), sit above the sea horizon like a floating platform that envelops the viewer in its simple but comfortable embrace.
The vertical timber slabs, cladding most of the walls (the ones that are not glass, that is) and compositing some of the furniture (like the working corner or the children's double beds) are not only a warm and pure insertions into the sleek modern interior configuration but are also an inside reflection of the folding shutters that envelop the façade and protect it from the harsh sea sun and winds. That way, the vertical stripes of wood create the cozy feel not only in the interior but also in the protective shell of the exterior. The overall design and architecture of this modern home are dominated by clear lines, organic materials, and transparent shell – so the merger with its beautiful sea coast surroundings is encouraged and celebrated. Alternation of wood and stone, glass and metal, light, and shadow stripes gives a dual yet well-balanced character to the interior composition. Photos: Derek Swalwell;