This project from one of our favorite Romanian designers, Bogdan Ciocodeica, presents us with the typical for his creations modern Scandinavian stylistic, flexible spatial and sculptural dynamics, and richness in textural expressions. The overall feel of the design composition for this elegant modern apartment is one of comfort and softness in a well-balanced combination with urban dynamics and artistry.
Its dynamic modern spirit comes from the contemporary art decorative details and playful urban elements. The open plan composition of the daily areas hosts in a dynamic and cozy sequence the stylish living room arrangement (a configuration of modern and Scandinavian design furniture elements), the trendy focal center of the sculptural kitchen corner and tugged in a niche behind a moonlit black (very trendy touch) furniture piece – a round dining table set is arranged and can be used as a work and privacy corner.
And speaking of fashionable design elements – the kitchen niche has an amazing sculptural expression of some very trendy decor details: square white metro tiles which clad all surfaces are decorated with contrasting fugues. This shining stylistic is definitely an eye-catcher with sleek modern expression enhanced by the ultra-modern smoke absorber and its cylindrical silhouette.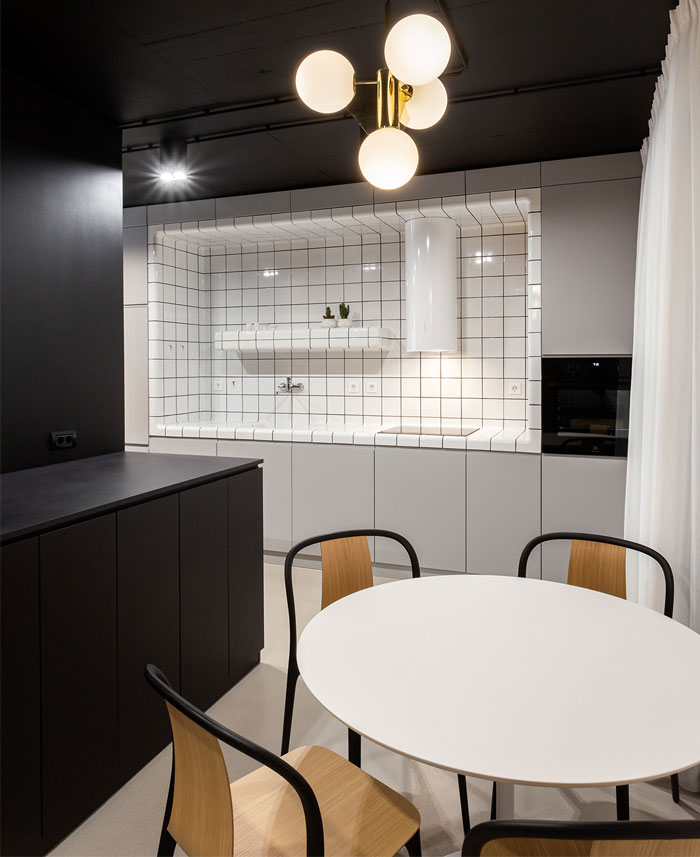 Functional and stylish design combines, in a specific space flow, the children's play corner with a small library-reading corner – a very comfortable arrangement, so the adults can work or relax while the children play. All is cozily tugged behind a large blue curtain giving textural softness and seclusion. The décor stylistic here is again comfortable, elegant and with hint of Scandinavian purity.
The lighting scheme of the décor composition is also created with the typical for the designer's attention towards the detail and sense of modern plasticity. Signature design lamps and lighting installation add to the artistic décor touches spicing the elegant furniture composition and the stylish materials and colors palette. In the living room area – with sunny access to the covered terrace – fresh green plants add vitality and each piece of furniture has its own character and inviting presence; from the trendy black coffee tables – one a monolith marble the other thin metal lines (a trendy modern expression), to the comfy looking siting options. Some of those furniture accents are iconic design pieces from the Scandinavian stylistic.
project team: Bogdan Ciocodeica, Alexandru Szuz, Attila Kim, Alexandra Popa, Ana Porim; photo: Kinga Tomos;
location: Bucharest / 2019;