From the series we are poisoned about – small urban dwellings, this white minimalism, straight modern lines, and stylish solutions apartment comes to show that size does not matter… especially if we think about spaciousness and luminosity with clever modern design.
In this case, the renovation of the duplex apartment in Lisbon, Portugal is carried out by DC AD Studio and entails the transformation of the seriously segmented 60 sqm layout into spacious two levels home. Separating the private form the social areas, by a difference in levels, the designers kept a unifying thread between premises by incorporating an elegant whiteness with industrial and urban hints, and impeccable attention towards the detail. Metal beams and columns, trendy tile compositions, metal frames for furniture elements and custom-made features (decided in light colors – white, beige, gray, pale pink, etc.) together with moving panes, hidden sliding elements and overall bright color palette give a playful, youthful and urban character to the home's decor composition.
The open-floor plan exposition of the lower level hosts the social zones; kitchen (small but stylish), the sunny dining area – gorgeous modern urbanism furniture elements compose it; and the comfy living room with characteristic trendy modular sofa in charcoal gray. This single dark element gives a contrasting focal accent to the pale pink, custom -made shelving that serves as a partial separation of premises. Behind the light, bistro-like, construct that hosts the kitchen dishes, another dark element gives depth to the space configuration.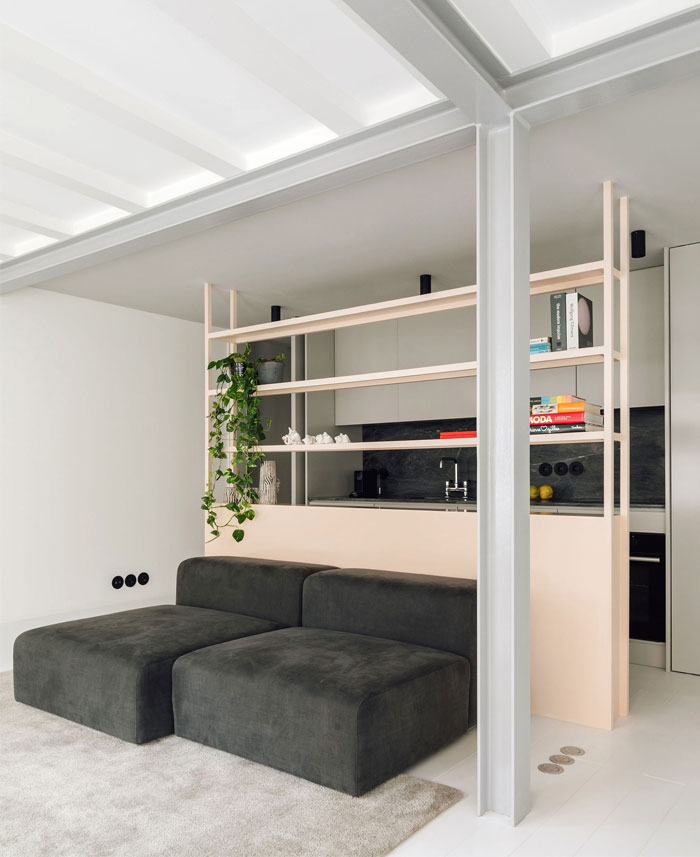 The second level also features an open-plan master suite that extends across the entire upper floor. Gorgeous terrace, with privacy and sunlight, invite the inhabitants for relaxation and leisure activities. The very trendy approach of leaving the connection between bedroom and bathroom partially open here is decided with the signature for the whole project playfulness and creativity. A freestanding mirrored cabinet gives a flexible separation between both premises while still allowing a free float between them. The bathroom is clad in a trendy mini-tile composition that enhances the playful yet stylish spirit of the place. If you are in a mood for something light and fresh, with distinctive modern and urban spirit, take a look at this duplex apartment surely you will find a lot of inspirational hooks here.