Stylish interior composition, for a home of a young couple, turns this small apartment in the Swedish city of Gothenburg into wonderful example of modern Scandinavian design and inspired configuration for a small urban premise.
Timeless and elegant with some memorable, contemporary furniture and art insertions the design creation of interior designer Elli Roshandel, founder of the Nouvel Interiör, gives a taste of what clever space flow, noble materials, and textures selection and fine artistic hints can do to a former office building – turning it into a serene modern home. The open and bright configuration of the daily areas has a fluid circulation that makes them appear larger than they really are. The color palette based on beige, gray, and brown with a light and elegant backdrop, further enhances the graphic and expressive character of the design composition. Wood, used to dress floors and window frames, provides an extra dose of warmth and coziness to the elegant space.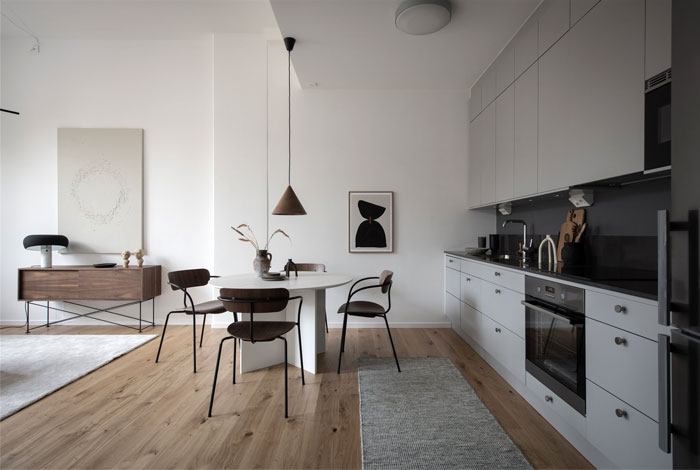 The choice of Scandinavian-style furniture has been calibrated so as not to recharge the space and make it crowded; instead, modern lightness, dynamicс of forms, and color contrasts define the space character. Iconic furniture design pieces, memorable art details, and ornaments create a quite lovely modern home. The timeless silhouettes of the sofa, model Tiki by Andreas Engesvik, and the iconic armchair Etcetera Lounge Chair by Jan Ekselius, preside over the living room.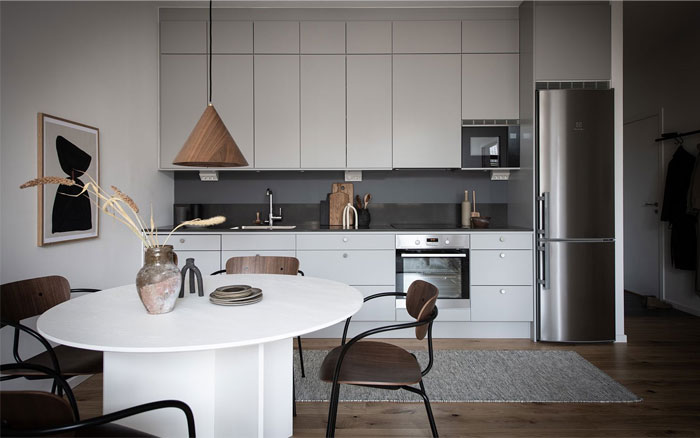 The dining area has a circular white table, which creates contrasts with the vintage aesthetics of the dark walnut chairs, Pavilion model, from The firm & Tradition. We love this alternation of dark frames and wooden accents with light, white, and lacquer surfaces, that goes throughout the decor idea. The fully open kitchen has a compact composition based on high cabinets without handles, in a light gray finish, and low modules, lacquered in white and with chrome knobs. Trendy black metal appliances and insertions complete the space.
In addition to the stylish color, materials, and furniture combinations, a selection of pictorial and sculptural works is exhibited throughout the different premises. Behind a sliding white wall panel, the bedroom resigns. Artworks grabs the attention and created a stylish and arty ambiance for the cozy and elegant bedroom composition. The clean lines of the furniture selection are softened by rich textural components – airy curtains, tactile surfaces, and sculptural pieces. Two black luminaries, posted on both sides of the bed, create an attractive symmetry, which contrasts with the chaotic size selection of the art that decorates the main wall.
The bathroom, despite its small size, becomes a multidisciplinary room that serves as a toilet and shower and includes a laundry corner. A trendy combination of squire white tiles with contrasting fugue gives the dramatic graphic juxtaposition characteristic for the whole apartment's design. This small urban apartment's project offers a modern and sophisticated space with a design of timeless quality, hold together by a contrasting palette of soft and neutral colors, art elements, and iconic designs furniture components.