From Victorian house to contemporary housing – that is some transition, isn't it? Just check out this inspired project by Matyas Architects. Turning the old historic relic into spacious, artistic, and full of a light modern home is quite a challenge.
But the architects used not only natural light, noble materials palette, and signature design elements to give that fashionable hint to the décor, they also introduced the trendy transparency of the glass to open the narrow passages and corners ( characteristic for a Victorian architecture). Sculptural architectural defiles of glass and light wood, transparent separations, and vast windows and sky openings give light and spaciousness to the new home composition.
The aristocratic and noble entwinement of light oak and white marble creates the perfect setting for the trendy furniture compositions and iconic modern design pieces used by the studio. In the open plan composition of kitchen, living room and dining zone, one can spot a lot of sculptured freestanding furniture pieces including the trendy sofa -a model of Frankie Deep, for Fanuli or the cute Fat Fat coffee tables, by Patricia Urquiola for B&B Italia. And as a cherry on top, on one of them, glass piece of art by Amanda Dziedzic – a combination that sets the tone for the modern art elements spread throughout the house. In the dining zone, the sculptured oak wood table and chairs are from the Molloy collection.
The attention towards the smallest detail that is in the heart of this project is visible even in the little reading corner, here the inviting looking Fri armchair, designed by Jaime Hayon for Fritz Hansen, creates contrast with the white of the bookshelf and supplements the aristocratic reminiscence of old times established by the cast-iron fireplace a and marble cladding.
In this setting, the custom-made structures of marble, lacquer (just take a look at the stylish kitchen corner), oak, and glass also sit as sculptural elements. Typical example – the elegant staircase – a capsule of glass and wood suspended in time – rises to the second floor of the home connecting the privet with social areas.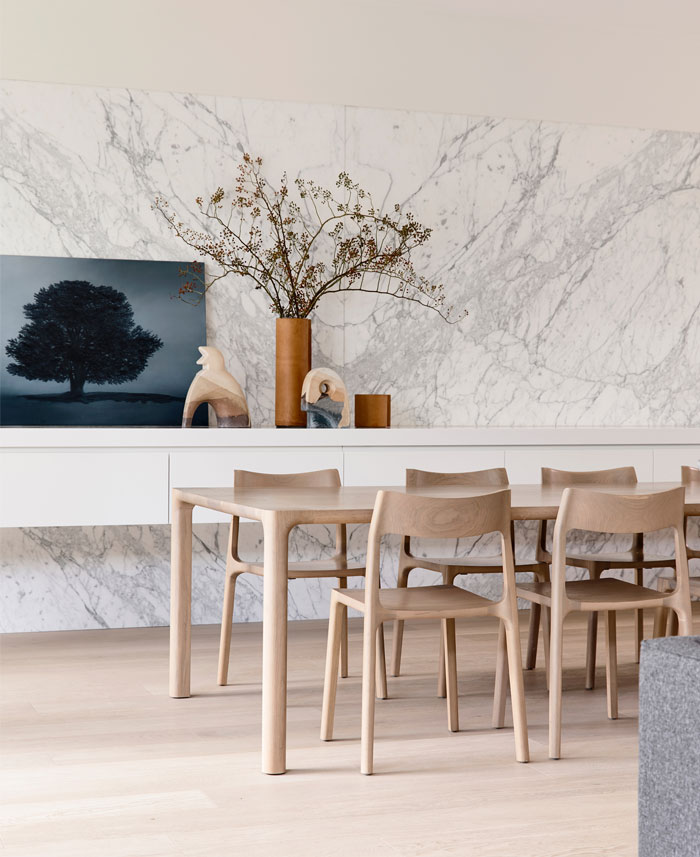 Through large glass walls, a free connection with the inner-gardens contributes to the spacious, organic, and full of the light ambiance of this modern home. Even here, trendy design furniture pieces create a modern and comfortable setting. Surrounded by greenery, a dining area has been created with the Metropolitan table, by Aero Designs, and Basket chairs, an already classic piece that Gian Franco Legler designed in 1951, edited by Feelgood Designs. Certain timeless elegance and nobility of textures make the connection between the past and the future of this family home.