The title of their design for Das Haus 2020 – "A la fresca!" – already hints at the direction the interior concept by Spanish design team MUT Design points in: the outdoors. At the same time, MUT Design's interpretation of the "Das Haus" event means imm cologne is set to play host to a highly architectural creation again this time round.
As so often in its work, MUT Design took its inspiration from simple geometric shapes. But the way the designers have translated the basic curve that recurs in the graphic elements into architectural volumes is anything but simple. The square footprint is dissected by convex wall sections and broken up into four round spaces that are arranged around a central rest area and completely open to the outside.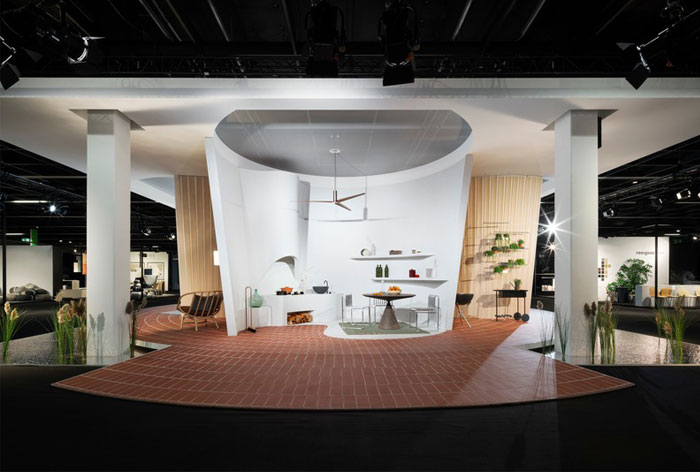 The circular general outline is framed by a flat square of reflective metal, which symbolises a body of water broken up by grasses. Artificial light is largely avoided. Instead, Das Haus radiates from within: the cave-like private area located in the centre between diagonally convergent wall panels is illuminated by a light source that aims to imitate the natural light of the sun as it moves across the sky over the course of the day.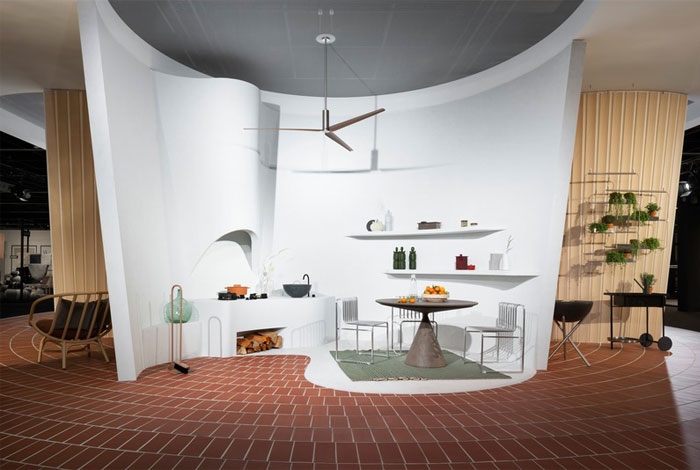 An architecture of longing between indoors and outside
Das Haus 2020 is reminiscent of a classical pavilion: formed from the combination of a circle and a square, styled with minimalist furnishings, open on all sides. It's an example of ideal architecture, perfect for a house nestled within the Albufera. The colours of this breathtaking lagoon landscape were an inspiration for Alberto Sánchez and Eduardo Villalón – who founded MUT Design ten years ago – in their selection of materials and harmonious colour schemes for their vision of home living for imm cologne 2020.
With their abstract approach, the designers from Valencia have succeeded in making an aesthetically persuasive and – thanks to their notion of a hybrid space – hugely appealing statement in support of a living concept that unites architecture and nature, the indoors and outdoors, opportunities for privacy and communal living.
With the title "A la fresca" – step out into the fresh air – the Spaniards are alluding to the culture that still persists in the area's villages of meeting up in the streets and squares of an evening. After the heat of the day, which forces people to stay behind closed doors, this custom provides an opportunity to sit down together with neighbours and friends to enjoy the fresh breeze at leisure.
Set in an open landscape and enclosed by a large glazed façade, Das Haus by MUT Design would be a perfect holiday home. But restricting this architectural concept to getaways from the everyday is too limiting. Life in direct contact with an environment that is as close to nature as possible reflects a very real need that is steadily growing, especially among city dwellers. Progressive architecture is responding to this need with large glazed façades, bright rooms and an apparently seamless transition between internal and external spaces. Das Haus takes this idea to extremes with its architectural design, which is entirely open to its surroundings.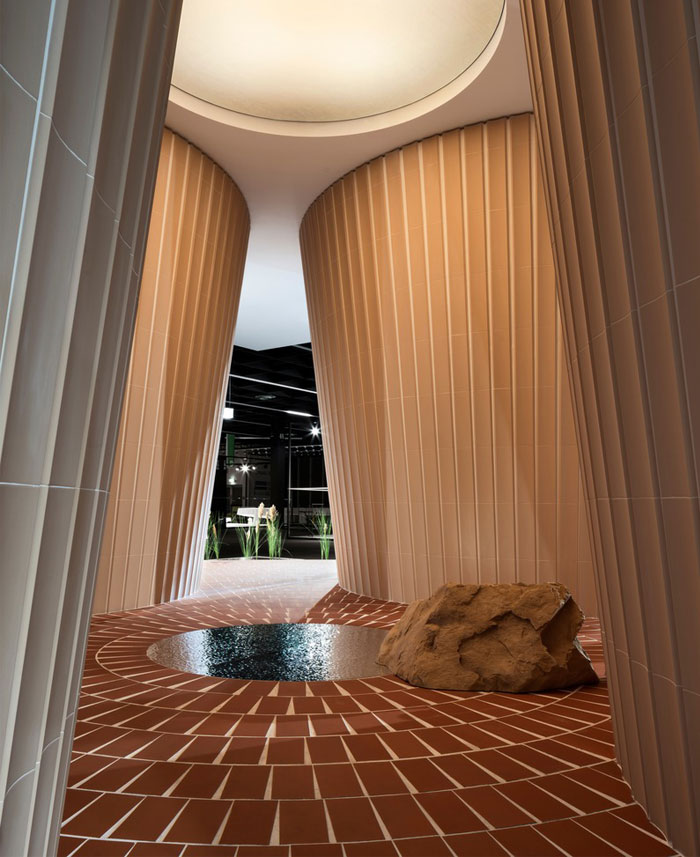 Boundary-free multifunctional spaces
Modern architecture not only seeks to create flowing transitions between indoors and outdoors; it designs multifunctional spaces in which furniture can assume highly diverse possibilities for use and form zones. This loft concept ensures expansiveness even on a small scale. A contemporary living space must be open to individual and changing functions.
In Das Haus, this forward-looking home culture will be staged as an experiment in the form of semi-circular sections of space linked to each other via the external sides. All the areas have an open design and are used communally. Cocooning is directed inwards, while community opens up outwards – this is how the highly symbolic architecture can be read. Only the room hinted at in the centre is conceived as a separate area with a corresponding closeness and cave-like architecture. It forms a space that can be used for meditation and quiet retreat. "The rooms are designed as individual entities, but they are simultaneously very open so as to create a feeling of the utmost fluidity," explain Alberto Sánchez and Eduardo Villalón.
New products for a stylish indoor and outdoor design
To bring the outdoor way of life into the interior of their concept for the home, Das Haus will be furnished with quality garden furniture. A series of specially developed new products will celebrate their premieres at imm cologne 2020. They include a hammock, an outdoor rug and a room divider by GAN, a rattan chair by Expormim and a chair by Diabla. The new outdoor chair for Gandia Blasco and MUT Design's new developments for Cappellini (a chair), Sancal (a pouffe) and Preciosa Lighting (a pendant lamp) as well as MUT's addition to the Nudo series for Ex.t were chosen to bring the snug cosiness of interior spaces into the outdoors.
The central lamp assumes a special importance. Like a light well, it simulates the incidence of natural light from the sun as it travels across the sky in the course of a day. "The light is designed to stream freely through the open areas and swim on the water. It acts as a frame and a thread that ties the whole structure together," explains MUT Design. The new convex-shaped tiles by Peronda provide a consistent covering for the walls and floors. The colours and materials are soft and simple: sand, terracotta, white … a blend of a modern, rustic style and minimalism. Photos: Constantin Meyer;