When an architecture firm designs its own space, it's worth taking a closer look. In addition to creating a sense of identity, this project shows that conventional offices have served their time.
This office in the west of Stuttgart was designed by Scope for Scope, a team of architects as well as interior and communication designers. Tailored exactly to the company's needs and workflow, a rather traditional floorplan was opened up to create a generous 230-sqm space that spans over two levels. The basic layout sees a division into designated communication zones and an open-space area.
The latter is equipped with height-adjustable tables and bespoke screens to provide both privacy and pleasant acoustics. Three meeting rooms, each with different seating arrangements, facilitate spontaneous meetings. The office further comprises 'think tanks' for those who need some peace and quiet, touchdown workstations, a material library and a light-flooded studio.
The collage-style combination of different textures, materials and colors comes across as rather sophisticated while also reflecting the diversity of the workforce, contributing further to a sense of identity. A sealed screed in the open-space area conveys a rough industrial charm, nicely complemented by high-quality furniture made of oak and black MDF. The color scheme is dominated by muted shades of black, grey and white.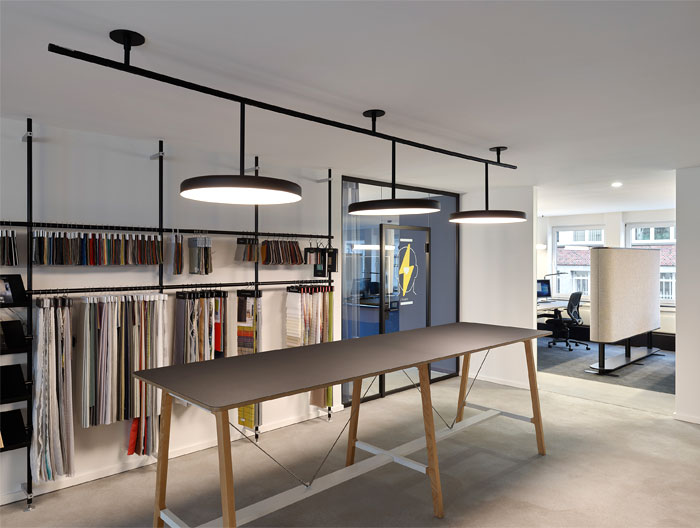 However, graphics with rose details – a reference to the street name, Rosenbergstraße – add a playful touch, as do walls in shades of green, cobalt blue, dusky pink and mint. Transparent shiny curtains create a contrast to the matt surfaces of the furniture. The mix of colors and materials continues into the open kitchen space, providing for a friendly atmosphere for employees and guests to cook together or simply enjoy their morning coffee. Photos by Zooey Braun;