Small apartment with stylish decor project that remind us of an exquisite and chic pastry – with whitе topping and delicious honey sparkle.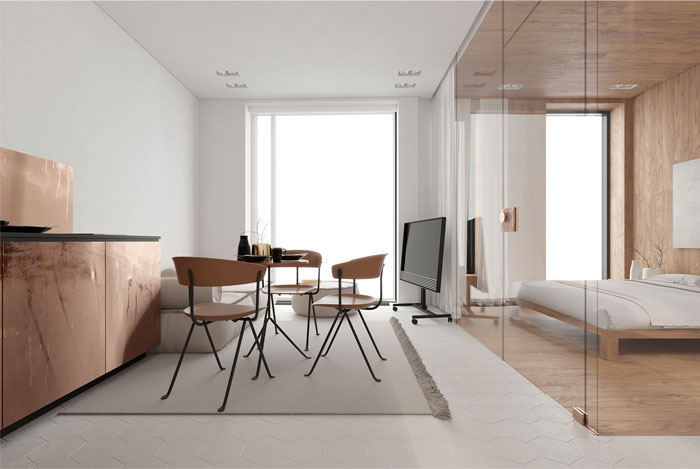 This exquisite beauty in Kiev entwines in its decor composition a few very trendy details; white minimalism and purity, extensive usage of organic materials (mainly wood and linen) and a sparkling touch of delightful and modern copper ornaments and details. Absolutely stylish and fresh! The apartment's interior decor is a project of a Sirotov Architects, and their signature touch of well-measured luxury and clever entwinement of modern and organic can be noticed easily.
The iconic modular furniture pieces and low cushion sofas (very typical not only for Sirotov's projects but also for modern design scene) are dynamically entwined with furniture elements carrying the typical mid-century aesthetics with a new contemporary read. The apartment's design project is also a beautiful example of the need to turn limited urban living spaces into an absolute delight for the senses. Another trend we are passionate about.
The open space flow of the small apartment interconnects all the functions of modern lifestyle needs: small kitchen corner – with minimalist presence and yet memorable stand – especially due to the copper cladding of the walls – a place where usually tile cladding goes; fallowed by pure and minimalist living and dining areas arrangement – here the trendy modular sofa and low cushions are nice neighbors to the retro chair and table dining set. And behind a glass separation – another trendy touch for limited apartment's space – a beautiful and pure looking bedroom resigns.
Here the extensive wooden cladding of floors, walls, and even ceiling create a warm organic feel of a cozy cube with the same white textural aesthetics as the rest of the apartment's decor, yet with individual stand and cozier emanation. We love the small thoughtful details – from the presence of honey copper ornaments ( especially pronounced in the beautiful and trendy bathroom composition – complete whiteness punctuated by fashionable fixtures made from the precious metal), to other custom made elements – like the wooden handle on the glass cube of the bedroom, or the Edison bulb as a bedside lamp. Purity and freshness, minimalism, and impeccable style are the hallmarks of this trendy design project.