Executed in the stylistic of light urban dynamics, this apartment project by RoomDesignBuro is called Beton -concrete; and carries the intriguing entwinement between rough touches and stylish organic insertions.
Placing the focus on the alternation of materials, textures, and fresh live plants, the design team choose a neutral color palette that gives lightness to the dynamic decor configuration. Unexpected and untypical angles and sequence of premises composes the main social areas: open plan exposition of kitchen, dining, and sitting zones; doors hide behind circular corners, half walls, and concrete beams create dynamic turns.
This flexibility and unusual space configuration are straightened by the horizontal silver rims that define the premises – thin metal frames fallow the curves of the floor and glass openings interrupt the height of the walls just beneath the ceiling – unusual and very dynamic decor solutions.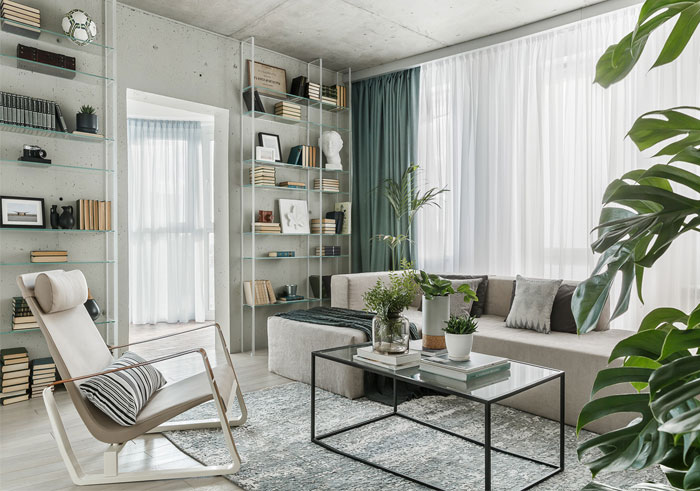 And speaking of dynamic, not only the space configuration offers a visual entertainment – the materials' selection is also quite rich and flexible: the cool urban feel of the concrete structures is softened by the organic presence of wooden furniture and cladding, light and trendy furniture pieces are combined with metal insertions and thin metal frames – quite a popular stylistic of late.
Terracotta and tile selection – including the hot trend of cladding the bathroom with mini-tiles are paired up with the luxurious touch of marble additions. Soft textural insertions coexist with glass and metal structures and partitions. This richens and alternation of the material expression is composing the dynamic character to the decor project.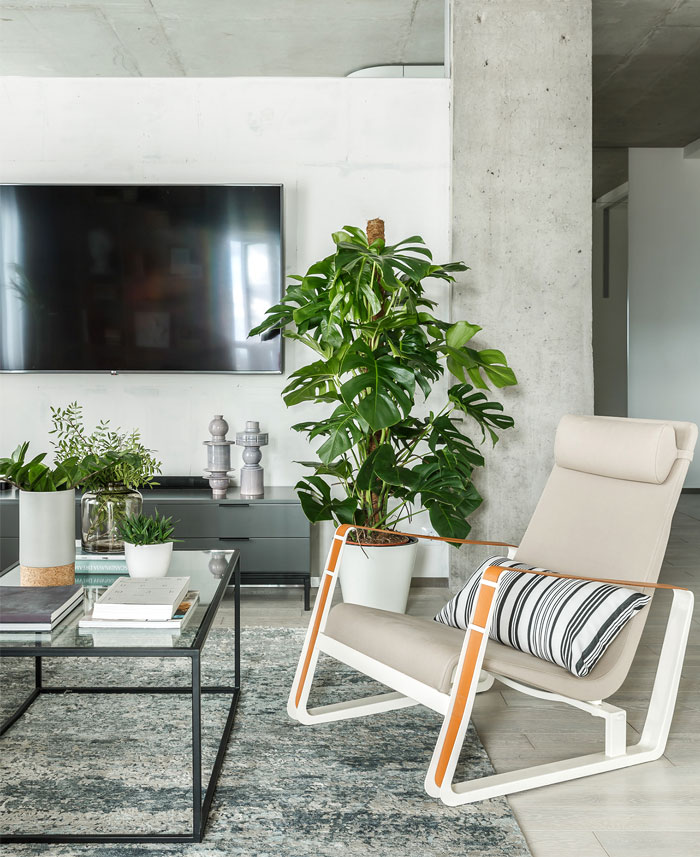 The main sitting zone has a characteristic expression of light and fashionable urban design configuration – trendy metal cube serves as a coffee table, the large modular sofa offers dynamic comfort, elegant decor insertions give softness to the configuration and minimalist but large TV wall is spiced up by its glass half, just beneath the ceiling – practical for light penetration but also artistic, in the sense of unusual architectural configuration, choice.
Custom made bookshelves, trendy furniture pieces, an abundance of living plants in minimalist and elegant white pots are all arranged on the base of neutral and light colors selection, creating a light feel for the urban dynamic of the decor configuration. Trendy lamps and art details complete the stylish emanation of this small apartment's composition.