A new layout for Charlottenlund's Izumi restaurant in Copenhagen, curated by Pan- Projects studio, sees in the Seleri chairs, designed by Mentsen for Zilio A&C, one of the most distinctive furnishings of the project. Founded in 2010, the Izumi brand fuses together Japanese and Nordic culture, identifying their points of contact and proposing a synthesis starting from food and style.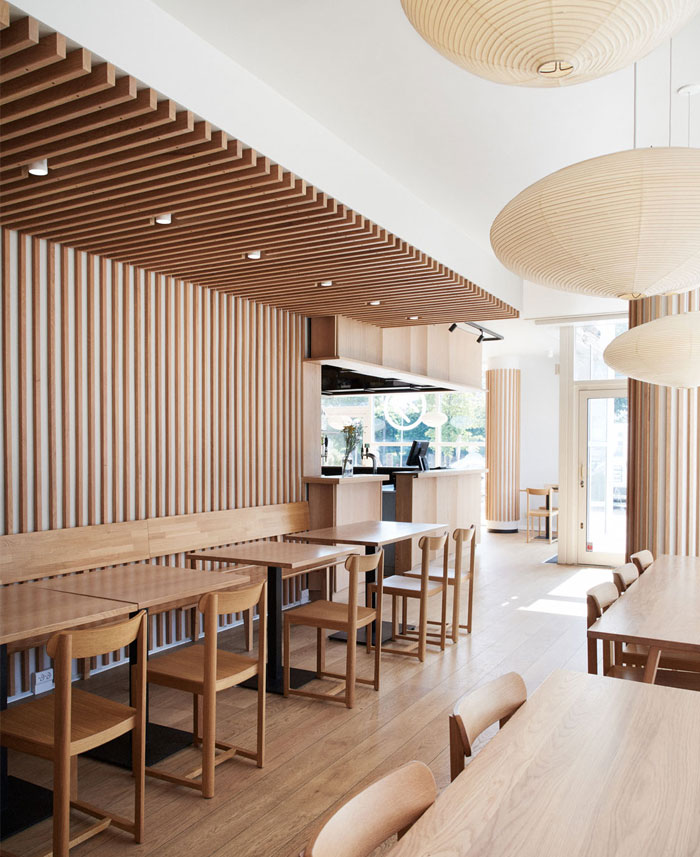 First of the five opened by chef Hiroo Machida, Charlottenlund's restaurant best interprets this happy union, thanks to an interior project that favors an essential design, played on the chromatic combination between the white color and the wood essence. It is a bright and relaxing space where you can fully concentrate on the sensory experience of food.
The lightness of the walls inspired by the classic paper dividers of Japanese houses goes along with the soft lines of curved wooden panels, reminiscent of traditional Danish carpentry. In this context, the choice of Seleri chairs in natural oak turned out to be ideal, both for the strong formal and chromatic assonances, and because this proposal perfectly reflects Izumi's concept, which always sees new chances of meeting between eastern and western world.
The craftsmanship tradition that identifies the quality of Zilio A&C products, combined with the design vision of Mentsen, strongly influenced by Japanese aesthetics, has given life to a seat with an international mood, capable of entering into a harmonious dialogue with the clean and genuine interiors designed by Pan-Projects. Photo Yuta Sawamura;