Raw, textural elements, dynamic space configurations, large comfortable pieces of furniture, and amazing materials selection characterize this loft project of an urban home in Kiev, Ukraine, carried out by FORM Bureau. We enjoy their creative and youthful urban projects very much, and this one, aside from its unique identity, carries a strong American urban design signature.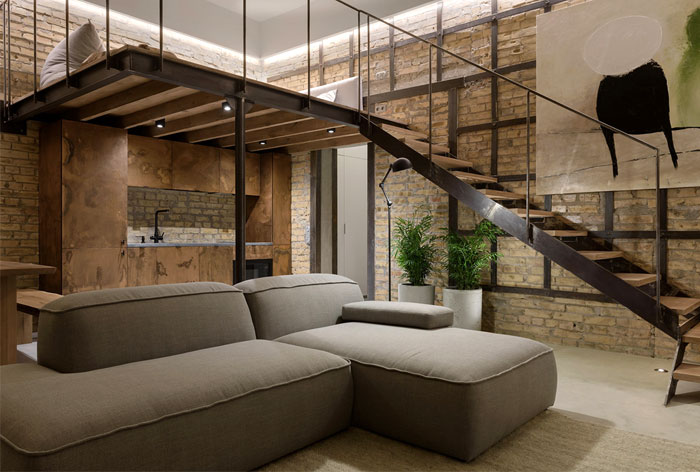 The mezzanine is located in the historical center of Kiev, and although small in size (only 41 sq.m.), it has an almost 4 meters in height, and the design team utilized this feature very creatively during the reconstruction locating the bedroom on the second level. The designers also used the textural dynamics for their juxtapositions in the organic materials palette- the smooth concrete floor is in dialog with the exposed brick walls, wooden insertions, and metal structures are the organic polarities of a mood – this very dynamic and aesthetically pleasing richens is further accentuated by the earthly color tonalities of the selection.
The open floor plan of the first level hosts a minimalist (only necessities, securing comfort in organic warmth) configuration of the social zones- kitchen, beautifully clad in copper sheets – very fashionable and artistic focal center of the composition. The attached dining zone with its vernacular inspiration- wooden bloc table and bench, bout created by artist Ivan Chudov, are just the right hard accent in the juxtaposition of soft and inviting, large modular sofa in the center of the living room- lounge area.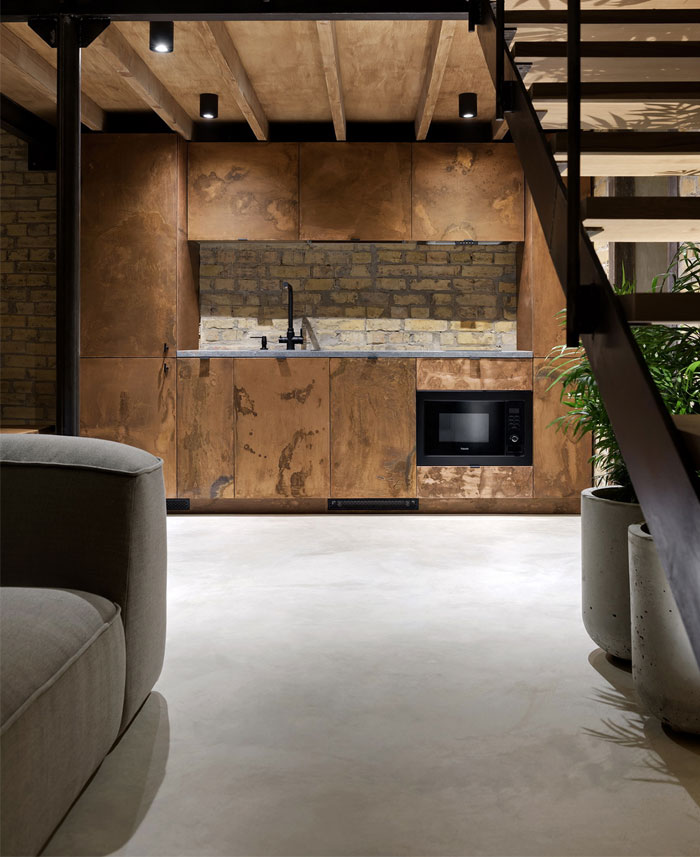 Most of the furniture pieces of the apartment's interior are custom created by the designer and fabricated by local Ukrainian companies – that includes the soft textural beauty of the sofa – a product of Interia. The urban and dynamic composition of the metal railing and structure hosting the second level is very cleverly balanced by the rich textural components of the decor – linen textiles and rough clay or cement surfaces – accents coming from the exposed brick walls and artistic insertions.
The large cement pots for the plants create freshness and modern ease, vitalized by living touches. Creating a good balance by play if textures and materials for the ambiance and putting it between modern urban dynamic and ultimate, organic comfort is quite a felicitous approach of modern design. Remaining you of your natural, earthly roots even in the fast, modern life's dynamic. The design team didn't forget to create a small and inviting reading corner- beautiful personal touch for refuge from busy city life. Project author: Victoriia Shkliar; Photographer: Sergey Savchenko;