An eclectic mixture between urban-modern and organic – tropical in this amazing three-story penthouse apartment in Beijing. The architects from IS Architecture achieved a harmonious balance between two different moods thought the usage of characteristic textures, shapes, and combinations, thus creating an unusual refuge space that is not only stylish and artistic but it also offers harmony and peace in the busy dynamics of modern life. Let's explore closer.
The first floor decor composition is designed to absorb daily stress and offers stylish and trendy combinations; clear geometrical shapes, cool colors, thin black metal frames ( very fashionable ,urban detail) glass partitions, and cladding of structures and surfaces with the hot this season square metro tiles – an urban and stylish decor for the main social areas. The kitchen, dining, and living room combo is arranged in an open-floor layout distinguishing between premises only by a difference in levels, textures, and design stylistics.
Different functional blocks give focal center to each of the daily zones – a custom made bookcase introduces spots of bright yellow and blue into the calm and soft gray-pink combo of the living room, the trendy glass-metal partition separates the adjoined guest room space and the expressive tile clad block of the kitchen finishes the dynamic urban stylistic of this floor.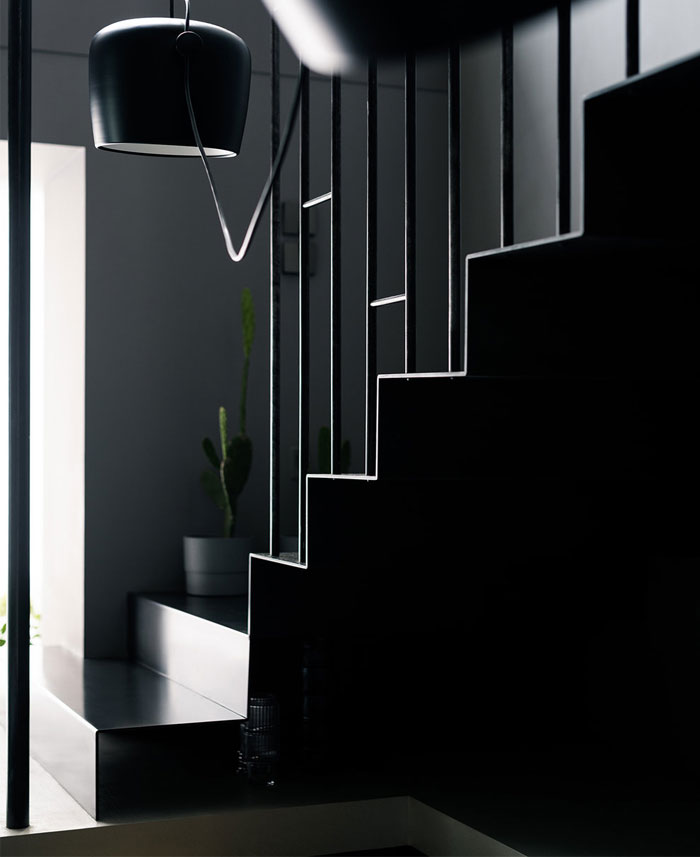 On the second floor, again in an open floor plan the master bedroom, bathroom, and working corner and walk-in closed are arranged. But here the designers used an abundance of natural materials, rustic elements, earthly tonalities, and textures to create a warmer, more vernacular feel of the space. Abundance of fresh plant life also adds to the tropical atmosphere of the second floor. Rattan furniture pieces and structures, together with the amazing terracotta tiles by Mutina, which separate the master bedroom and bathroom, give the textural accent of the decor composition.
We love this transverse terracotta structural composition so felicitously used here. It allows a free penetration of light and air between the premises – without actually compromising with the artistic and fashionable statement, this is a popular touch used in some other iconic modern design projects. A significant contribution to this floor cozy and welcoming feel has the color composition: earthly tonalities, ethnic patterns, and organic materials are dynamically. A combination playfully juxtaposed to the design idea of the first floor, where colder variation of gray hues (including the polar white and black) and splashes of trendy blue, pinks and yellow, gives the modern urban dynamic of the color palette.