Beautiful vacation villa with amazing details and breathtaking bird-view exposition. Probably drawing their inspiration from the modernistic movement to reuse shipping containers, the architects from Caballero Colon applied the simple rectangular shape approach into designing this fresh modern villa.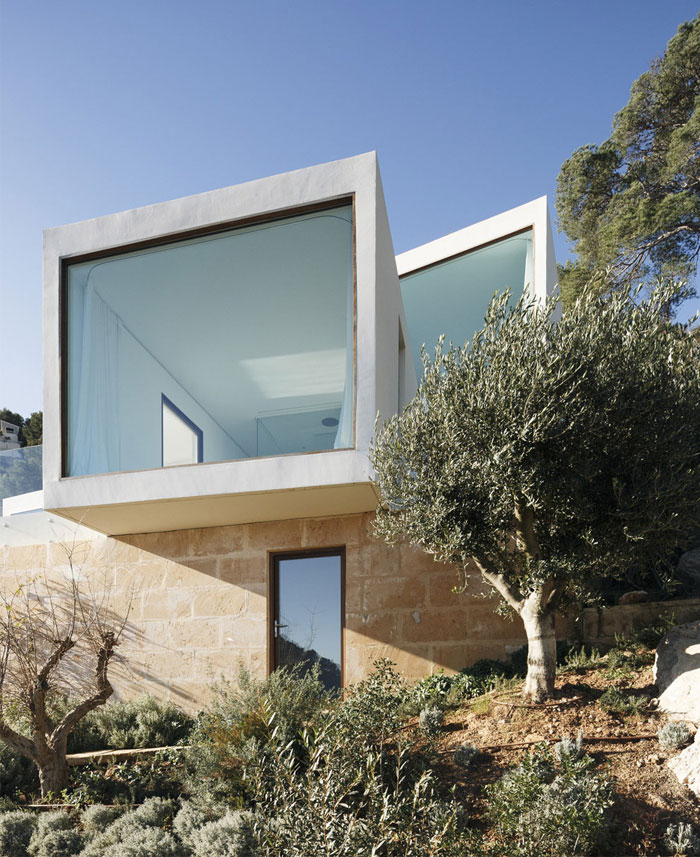 Looking like a child spread its playing cubes, the dynamic arrangement of the minimalist rectangular volumes of the house capture unique angles of landscape view. The approach of having cubical volumes of the home structure facing (through large clear glass openings) different angles of the 180-degree landscape is something of a signature composition for the architects. In the case of this vacation villa in Mallorca, the luminous dynamic of the architectural shell is matched by intriguing and stylish details throughout the decor composition.
The interior design of the home corresponds with its unique architectural shell- is modern, elegant, and light. Fresh combinations of textures and sea-inspired colors entwine in a luminous and full of natural light and vistas premises. Turquoise, light green, and sea blue are used as detail accents laid on a mainly white and beige base – very fresh and relaxing color composition. In the kitchen is one of our favorite decor arrangements – art-deco-inspired tile flooring (very artistic and trendy approach of late) is combined with the retro stylistic of thin wooden lags for chairs and furniture pieces.
The solidity of the kitchen island is freshened up by the custom made turquoise cabinets and accents insertions. Modern lamp's design of a fragile Edison-bulb finishes the delicate and elegant composition. The same well-measured easiness and elegance can be observed in the inviting living,dining room combo, or in the master bedroom – where the minimalist arrangement and delicate textures complement the breathtaking view (provided by the signature for the designers' picturesque windows).
In the materials composition of the project, the exposed wooden beams and elements together with the terracotta and stone compositions take a lead. Summer light and easy-going vibe dominates the house decor leaving the spectacular views and the unique architectural construct (which, understandably, aims to enjoys them fully) to take the lead in the character-defining home emanation. Photos: Luis Díaz Díaz;