Light spots facade and circles of sun. Bright, contemporary home project in Israel gives us a glimpse of daring architecture and design and capture us with characteristic and artistic features – like the perforated pattern on the facade.
The creators form Anderman Architects call it "a house on the edge" referring to its location and the openness of its configuration on one side, absorbing the tranquil views of the garden, and closing it on the other – towards the busy city life. Here a laced concrete facade filters the city and creates a magical play of shadow and light reflections on the interior premises. The perforated wall is designed, so that transfers natural light into the house during daytime and by night transfers artificial light outside, illuminating the street with its special glow.
The light organic materials palette selected for the premises' decor corresponds with the clean open shapes of the architectural shell. Oak and wooden panels, concrete structures and metal accents are arranged in elegant contemporary sequence creating full of natural light spaces. The whole home configuration gives a dynamic, easygoing vibe for design with modern character. On the ground floor, connected with a seamless transition to the privet garden, the main social areas resign. Behind large galls doors, smooth wooden floors and modern design furniture elements are arranged in a free and almost minimalist configuration, thus creating comfort without giving a heavy, overindulging vibe.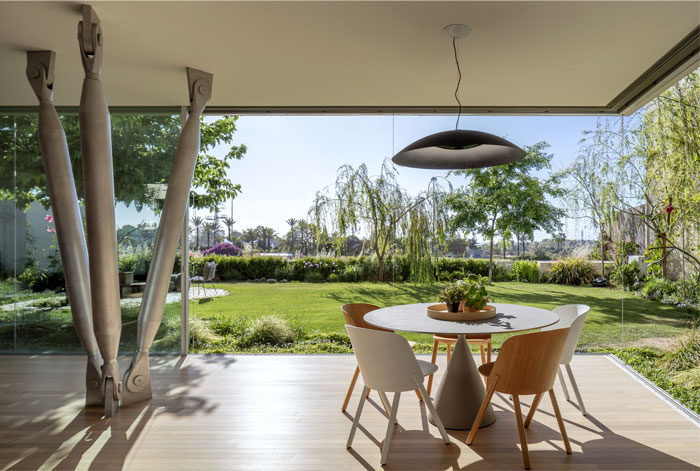 Organic and pure materials and furniture elements dominate the modern interior composition- not only the extensive wooden cladding and structures, but also rattan furniture and rug elements, macramé elements, and chill-out hammocks. This summer-nature play gives an earthly feel that is perfectly balanced and entwined with some more modernistic furniture insertions. The playful pattern of the house's main future – the perforated facade – finds its replicas in small decorative dots on the walls throughout the home. Photos by Amit Geron;