From the series – small urban apartments: a masculine, cozy and with strong modern edge this dwelling in Kiev, Ukraine has interesting decor details to explore. Thanks to a dark color palette and sparkling insertions a jazzy, luxurious feel is established.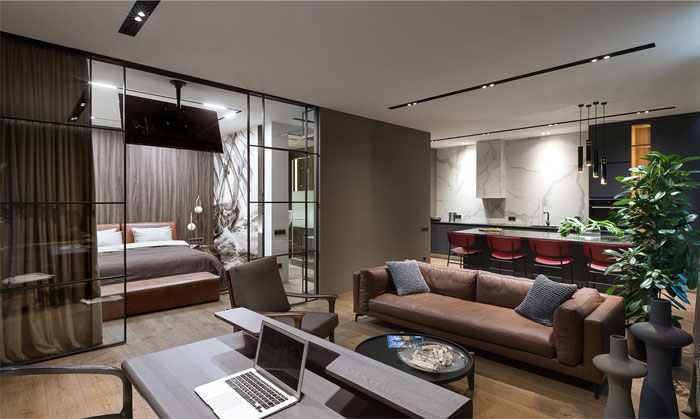 The place created by designer Viktoriya Pankova – Homecult Interior Design, offers an open plan exposition of kitchen, dining, living room arrangement with a small working corner and clever, aquarium- like separation for the bedroom. Large panoramic windows offer an urban view and abundance of natural light, while floor-to-ceiling curtains give a rich textural touch and secure privacy for the bedroom corner – in this way free flow of light, spacious feel and openness can be alternated with cozy and snugly enclosure. Warm, dark and masculine color selection composes the design – from the soft gray of the curtains, walls and some furniture and decor details to red terracotta accents and black details spiced up with precious materials and metallic sparkle.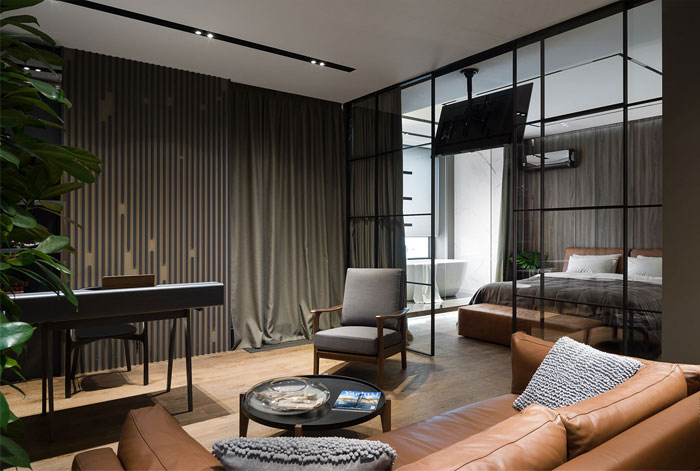 The leather sofa and the retro wooden furniture insertions give a homey twist to the urban stylistic of the decor. The kitchen corner with island is composed of straight lines, pure silhouettes and entwinement of luxurious smooth materials – marble and black custom made surfaces. Inside illumination of kitchen shelving – a very trendy approach for modern kitchens, give a warm accent to the straightforward stylistic of this area. The living room and cute working corner (with stylish and unusual desk) continue the welcoming yet urban and modern composition.
Intriguing lighting installations and trendy lamps with brass detailing add to the luxurious vibe of the place. The bedroom separated behind trendy glass walls, with thin black framing, is stylish and elegant. A beautiful graphic painting on one of the walls gives a character and artistic touch to the arrangement. The insertion of an open bathtub in the bedroom (romantically situated in front of the windows) adds a dynamic and trendy touch to the bedroom giving it a unique feel. The luxurious and smooth design of the bathroom and walk-in closet complete the stylish design project for this 78 m2 urban dwelling.