Centering on the possibilities of future lifestyles, New Everbright Center invited five exceptional designers, including Shuhei Aoyama, Han Wenqiang, Jiang Yuan & Song Chen, and Tang Chung-han, to design four guest rooms in ArtPark9. Based on distinctive design strategies from different perspectives, the four human-oriented spaces feature harmony in diversity, together interpreting ideal living environments for contemporary Asian people via Oriental philosophy.
Living a routine life commuting between home, work and other commitments, some people may take wherever they go as home. However, what is the real meaning of home? For the designer, home is about inclusiveness. It can accept your emotion, departure, gathering, and let you embrace your true self.
The space is aptly named "In Between", which is written as "之间" (pronunciation: Zhi Jian) in Chinese characters. It is like a "gray space", which enables the transition between exterior and interior, mood changeover and self-conversion.
For Tang Chung-han, the designer, the project name has a more special meaning. Through separation and unity, textures, envelopes and layers, he intended to create continuous spatial experiences. The Chinese character "之" is zigzag, resembling the form of a path or a kind of connection, which narrates the story about a sequence of interconnected spaces.
The entire space is finished in white, transparent and bright. White, which is symbolic of softness and inclusiveness, can be matched with any colours. And it can also reflect the maximum amount of sunlight. Without physical boundaries, the space is partitioned by a variety of lines, which are either wide or narrow, either blurry or clear. Every design detail is an undulating paean, with the rhythm provoking people into reflection.
The space is like the fish-belly-like white sun rising gradually at dawn, which adds vigour to creatures in the earth, and also like the bright moonlight at night, bringing peace and calmness and dispersing the darkness. The artistic painting forms a visual focus, which is full of tension and seems to break through the constraint of space. The white gaps on it seem to try to integrate into the wall, fully displaying the beauty of conflict and harmony.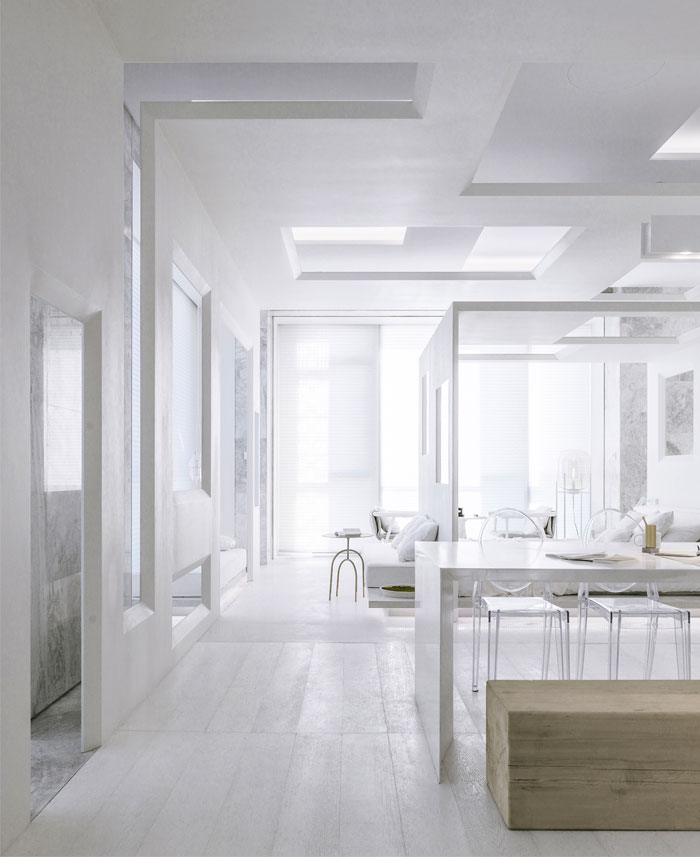 Around the bed, several openings are carved out, which not only ensure the permeability and transparency of the space, but also reduce the feeling of loneliness caused by the size of space, thus making people feel more secure and increasing enjoyment. Light flows downwards from the ceiling and penetrates the space layer by layer, thereby adds lightness and rhythm to it. "I want a space with a sense of formality, a concept of home, and more importantly, a unique spatial experience", the designer said.
In Between – Designer: Tang Chung-han; Design company: DESIGN APARTMENT; Area: 117 m2; Completion time: November 2018; Photography: Jin Weiqi, Zhong Weizhi;