This is an important year for Matera, designated European Capital of Culture under the motto "Open Future". This city, among the oldest in the world, preserves evidence of human settlements dating from the Paleolithic Period and without interruption right up to the present day.
It represents an extraordinary page written by man through the millennia of this very long history, so much so that in 1993 UNESCO declared the Sassi Stones of Matera a World Heritage Site. In 2019 there will be numerous daily events that will involve the whole city,as it welcomes thousands of visitors and tourists curious to learn about its history, various districts and traditions.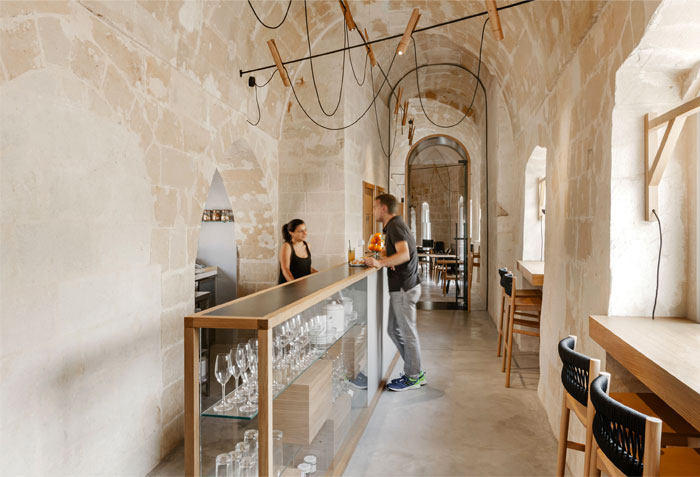 Ai Maestri Rooms & Cafe in Matera is set within this context, a location that combines charm, hospitality and craftsmanship: a small and refined hotel with only 4 rooms, carefully decorated and researched in detail, to recount the stories and trades of the city. But also a café born to offer a corner of taste not only to lodgers. From breakfast right through to the evening aperitif you can find local products and enjoy the local food and wine.
Ai Maestri Rooms & Cafe di Matera, designed by the architectural practice Mancastudio is a striking construction of breeze blocks alongside unearthed in the local limestone. At the heart of the project is an underlying desire to show off and interpret local craftsmanship. Mancastudio has chosen Billiani seating to fit out this dreamy little place.
The Billiani Load chairs and stools, designed by Emilio Nanni and included in the bistro and in the bedrooms in the rope-weave version, perfectly reflect the concept of Ai Maestri, which seeks to express know-how by combining various objects adapted under a single theme of the past with contemporary living. Everything here is hand-made and the various rooms are full of objects and furnishings that testify to the great artistry of skilled artisans.