Simple lines, purity of expression and trendy furniture and finishing elements create an easy going and relaxing ambiance with a minimalist swing for this modern Lithuanian apartment created by Petreikiene design in collaboration with Furnilab.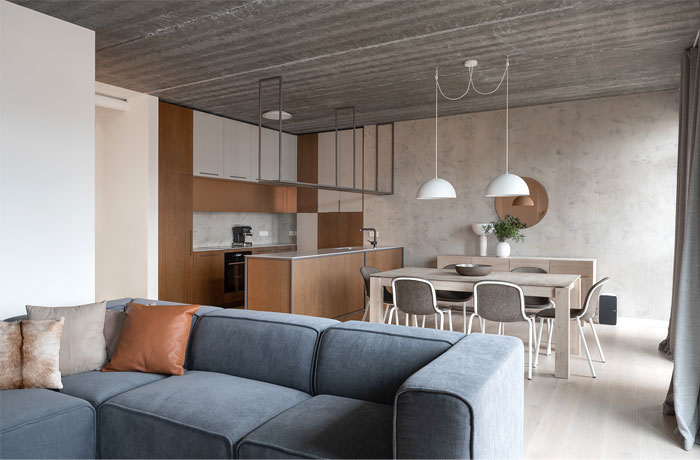 The main social zone of the modest size urban dwelling features the dining, kitchen and living room areas in one open layout exposition securing spacious and functional feel. Inspired by the rising on the interior decor scene minimalistic movement, the design team used furniture elements with clear-lined silhouettes, monochrome color palette ( dominated by soft pastels, grays and the accent of copper details and coloring) and rectangle shape – dominated selection to create a straightforward modern ambiance. The kitchen corner uses elegant and modern custom- made structures – from the suspended metal frame above the kitchen island (a very popular and trendy touch replicated as a framing of many other furniture elements) to the beautiful alternation of materials and colors in the creation of the kitchen cabinetry and counters.
The dining zone features a stylish selection of untainted wood furniture elements (the table and the sideboard), elegant design lighting and decor details and the sunny accent of the copper glazed mirror on the wall – giving a focal accent to the calm and serene composition. The concrete and terrazzo cladding throughout the apartment are supplemented by long, soft gray curtains, creating a neutral yet modern shell for the design arrangement.
The large modular sofa in calming, pastel-blue finishes the open space composition of the social areas with a cozy and inviting sitting niche. The materials juxtaposition used by the designers alternates gray concrete slabs and wall finishes with wooden panels, furniture, and even door finishes straightening the clean and modern minimalist feel of the apartment's ambiance.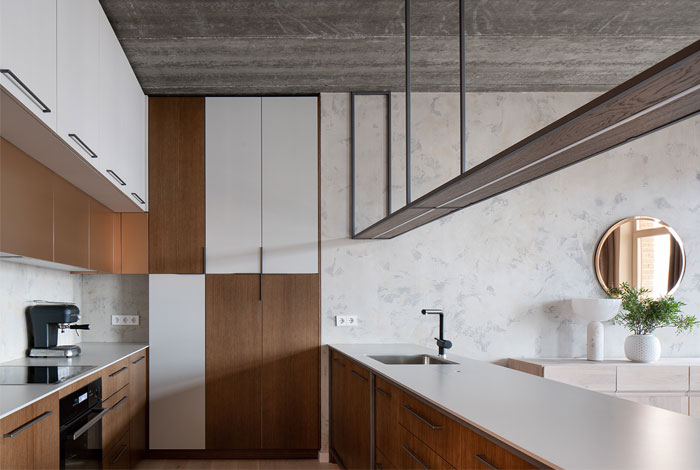 Another visual juxtaposition with strong impact and repeating pattern is the tension created between the thin metal frames defining most of the furniture and lighting elements and the softness of the abundant textural additions – upholstery, large floor to ceiling curtains and so on. The master bedroom is also simplistically designed, offering clean comfort and inviting minimalist functionality of the design. Photos by Vaidotas Darulis;