Award-winning cake designer Peggy Porschen has just launched a new flagship Parlour at 219 King's Road in London's Chelsea, with a deliciously photogenic interior by Kinnersley Kent Design. The Chelsea location includes an extended 'all day dining' menu, and new features such as a reservation operated dining area, an events space and a pink champagne bar. The concept includes a pretty pastel material palette, with bespoke furniture, lighting, flooring and wallpaper.
Established in 2003 as a bespoke wedding and celebration cake business, Peggy Porschen has become an industry trendsetter with a huge following. Since the brand's first bakery opened in Belgravia in 2010, tourists and Londoners alike queue throughout the week to experience the freshly-baked delicacies – and to take a photo with its famous pink façade and seasonal floral installations. The new all-day concept marks the next step in the brand's expansion plans.
The new Chelsea Parlour consists of two floors over 223 sq m (2,400 sq ft) in an attractive corner site which was formerly the Chelsea Quarter Café. The 'Peggy Porschen Home' that Kinnersley Kent Design have created captures the magic and charm of the original Belgravia Parlour while adding a range of inviting new spaces and experiences.
The concept is loosely based upon the idea of a 'Peggy Porschen Home'. Each room offers customers a slightly different experience, with a change of pace and purpose. Rooms include The Café, The Lounge, The Salon, and a lower ground floor housing The Chelsea Rose Room and Pink Peony Bar for events.
The evolved interior identity that stays true to the brand, embodying its feminine spirit through every touchpoint. The sophisticated colour and material palette is a celebration of pastels, mixing soft green, pink and blue hues.
Taking a hands-on approach, the designers' scope of work included planning, interior architecture and design, design detail, joinery design, prototyping and overseeing implementation. Several unique pieces were commissioned especially for the Parlour, including custom rose wallpaper from illustrator Kerrie Hess, whose designs have featured in Vogue, Tatler and Harper's Bazaar.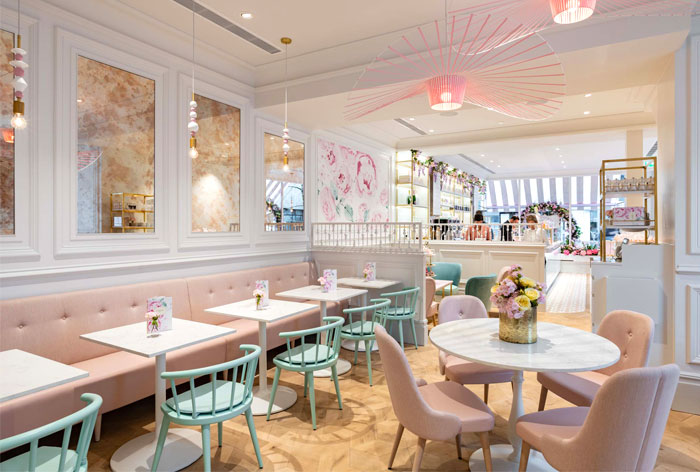 'Attention to detail' is at the heart of both Peggy Porschen and Kinnersley Kent Design's creative approach. This synergy is expressed throughout the flagship, resulting in a delightful experience for customers that also responds to commercial and operational requirements. The Parlour is playful and whimsical, luxurious but comfortable, combining contemporary design references with traditional details. Inherently photogenic, the design encourages social sharing while also being skilfully designed for function and longevity.
Jill Higgins, Partner at Kinnersley Kent Design, said: ""Peggy Porschen is an amazing brand, with a distinct identity and a loyal following. The design challenge was to encapsulate the brand's essence, evolving it for the new Parlour without diluting its personality. It was an absolute pleasure to work with Peggy and Bryn, Peggy's business partner and husband, to imagine what the new all-day concept could be. Whether it's a customer grabbing a coffee and an indulgent treat, or friends or families celebrating a special occasion, the Parlour creates a memorable experience for each customer."
Peggy Porschen, Creative Director of Peggy Porschen Group Ltd, added: "The new Parlour is an important milestone for us, and we are hugely excited to be growing our brand in this unique and historic location. The project was intricate and detailed, calling for close coordination and a shared vision across each team. We were impressed by Kinnersley Kent Design's collaborative approach, their creativity, eye for detail and dedication in helping us achieve our ambitions. We are thrilled with the outcome and are sure that our customers will love the new Parlour as much as we do."