The result of a prestigious project, the office building called NOVE was born to become the landmark of the Arnulfpark district in Munich, an area spread over a surface of 7,300 m² that is an outstanding combination of contemporary, high quality of urban architecture, in an extended complex of offices, residential and commercial real estate, built in few years.
Antonio Citterio and Patricia Viel, was selected as winners in the international architecture competition to design the building. They are the architects of whom the NOVE carries the signature, developed by Horus Development GmbH, a joint venture of Salvis Consulting AG and Art-Invest Real.
The building finished in 2017, just in two years , boasts 27,000 m² of usable space on six floors, approximately 1300 workstations, a large and airy lobby, a nine-floor skyscraper and roof terraces with views of the Alps. The façade is a strong point that enhances its aesthetics and its architectural peculiarity, which stands out thanks to bronzed golden aluminum frames. They give the building a particular depth, dynamism and a three-dimensional effect.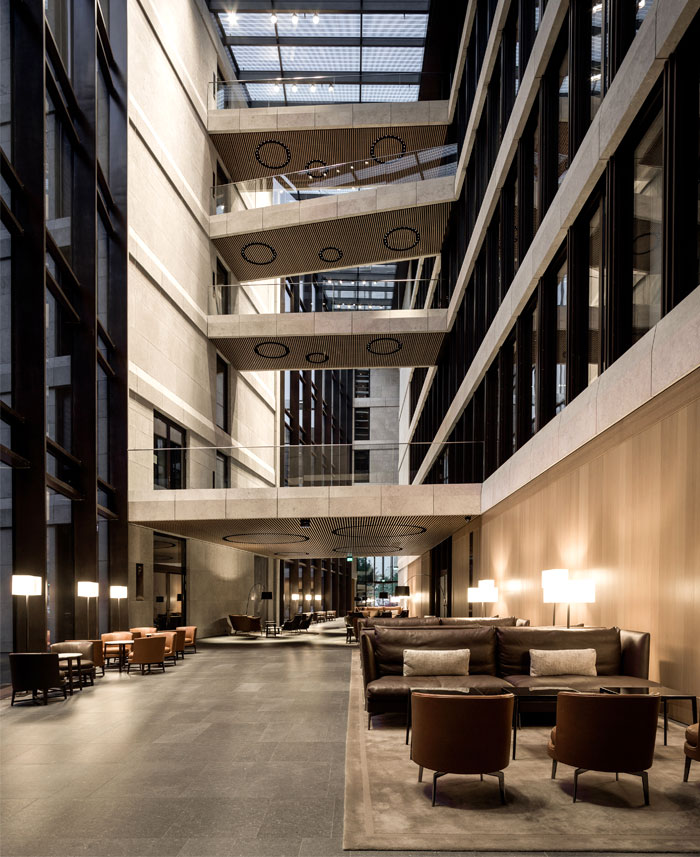 The elegant and bright interiors include common areas, with the full height glazed lobby that is the main core of the structure. The disposition of the spaces inspire relaxation and collaboration, while the upper floors are reserved for work privacy. Internal courtyards, gardens and terraces harmoniously complete the office spaces, giving the image of a unique, flexible and pleasant living environment.
The Pietra di Vicenza* coming from Grassi Pietre quarries is the important protagonist in interior design: about 4000 m² of the Pietra del Palladio, in the Grigio Alpi declination, they composed the wide ventilated walls used to clad the common areas of the various floors of the building and several other stationing-passage areas. In fact, the material and contemporary character of this stone can also be found in the multifunctional reception and meeting areas, along the elegant corridors and enhance the elevator shafts.
The NOVE was designed as a Green Building and was certified LEED Platinum (Leadership in Energy and Environmental Design), issued by the American organization of the same name. He also received the European Property Award, an award given to property and companies operating in the real estate sectors for the category "Best development of office building". Project by Antonio Citterio and Patricia Viel; Photo Credits: Rainer Taepper; Material used: Pietra di Vicenza Grigio Alpi by Grassi Pietre;