Youthful and fun, creative and elegant elements entwine in this beach house project in Soorts-Hossegor, France. Created by JAVA Architecture for a surf-loving young couple with a small child the vacation home reflects the lifestyle of its owner and their search for nature orientated dynamic, leisure time experience.
Aiming for a minimal footprint on its surrounding the house sits on a beach-side hill, surrounded by carefully preserved forest, inserting amongst it its barn-like-bungalow on the beach silhouette with organic ease. The vertical rhythm of the pine timbers composing the architectural shell gradually reviles an open and easy going connection between the open porch, the surrounding sand dunes and the organic ambiance of the interior. The openness, simplicity and easygoing vibe of the home construct translate into a light, organic and youthful interior compositions.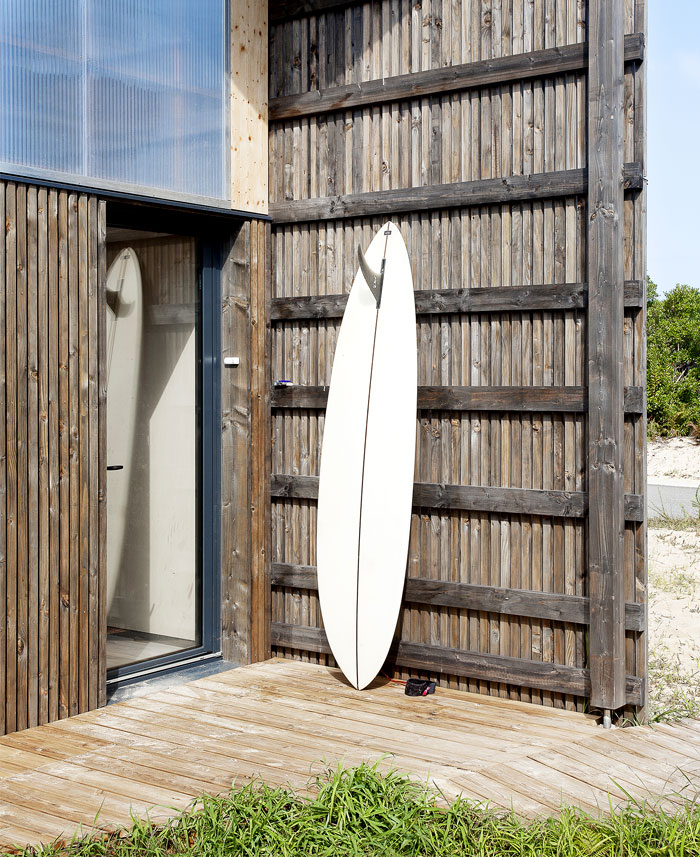 The interior decor is decided mainly with organic materials and delicate textures – blond wood cladding, custom made structures and Scandinavian style furniture elements give pure, dynamic and modern feel to the home interior composition. Glass and delicate timber stripes have a dynamic and light emanation; massive cladding and detailing with light wood straightens the fell of chill out, relaxation time but with an elegant twist.
The wooden purity and easy-going spirit of the materials palette are matched by luminous whiteness in the color accents – from airy curtains to modern furniture upholsteries in delicate and light colors. So if you are searching for unusual surfing- beach house with an elegant twist – this is it. Photography by CaroLine Dethier;