Recipe for contemporary urban chic – pair up row concrete with soft pink velvet, add gorgeous red brick constructs and sprinkle some brass and copper for glamour and there you have it – exquisite and inviting. Using her signature design combination of rich textures, lovely colors, trendy materials and furniture elements the Studio Olha Wood created the delicate ambiance of this cute urban apartment.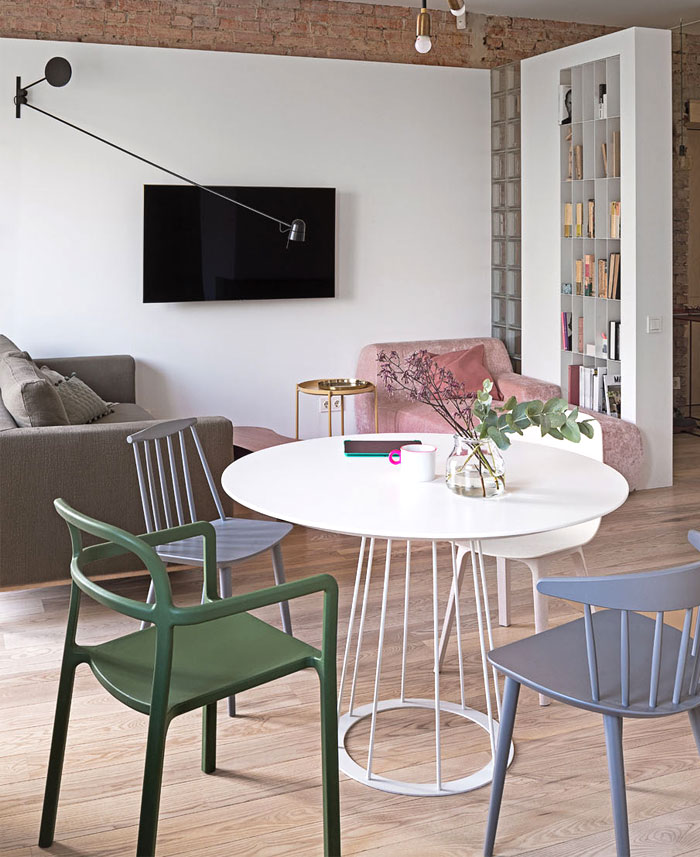 The place is not big but thanks to clever and stylish decor compositions offers variety, dynamics, and unmistakable comfort. The main living space offers an L-shaped configuration between the kitchen, dining and living zones. Rich and trendy materials selection- from beautiful exposed red bricks to gorgeous wooden parquet spiced up by concrete and sensual velvet accents- create an atmosphere of relaxed comfort and artistic inspiration.
The eclectic mixture of retro-inspired mismatched chairs and modern design table forms an elegant and delicate in its lines dining area. Its light and thin silhouettes are expressively juxtaposed to the solid and strong color accent of the red brick wall structure at one end of the space – and the warm, cozy solidity of the sofas especially the pastel pink one – offer a balancing focal juxtaposition to the arrangement.
Custom-made white plaster TV-set wall, fireplace and library units offer a dynamic and functional distribution of space. The purity of the white surface is supplemented by trendy glass brick segments and row cement ceiling beams. This is yet another felicitous textural combination so characteristic for the work of the designer. The usage of trendy designer furniture and beautiful color accents in sophisticated pastel tonalities is another strong feature not only for the design of this comfy apartment but for the work of Studio Olha Wood in general. Trendy brass decorative elements add sparkle to the feminine and artistic decor composition. Photo: Andrey Avdeenko