Creating a contemporary design extension to an existing 1960's yellow brick house in one of Sydney's quiet neighborhoods the architects from Christopher Polly Architects achieved a dynamic modern composition that corresponds with the lifestyle of its owners a young couple and their energetic dog.
Preserving the beautiful historic facade of the original bungalow at the front of the new family's home and composing a butterfly wings open-face at the back, where the construct is facing the yard and offering open views and free light penetration through the modern black frame – the designers created an articulated binary composition.
We love the simplicity of the dynamic new extension – black frame and glass, exposed concrete slabs and warm wooden accents. The new pavilion structure with its modern and open construct also meets multiple sustainability criteria – expressive glazing expanses harness natural light and promote passive cooling and heating, while external retractable blinds temper direct sunlight when required.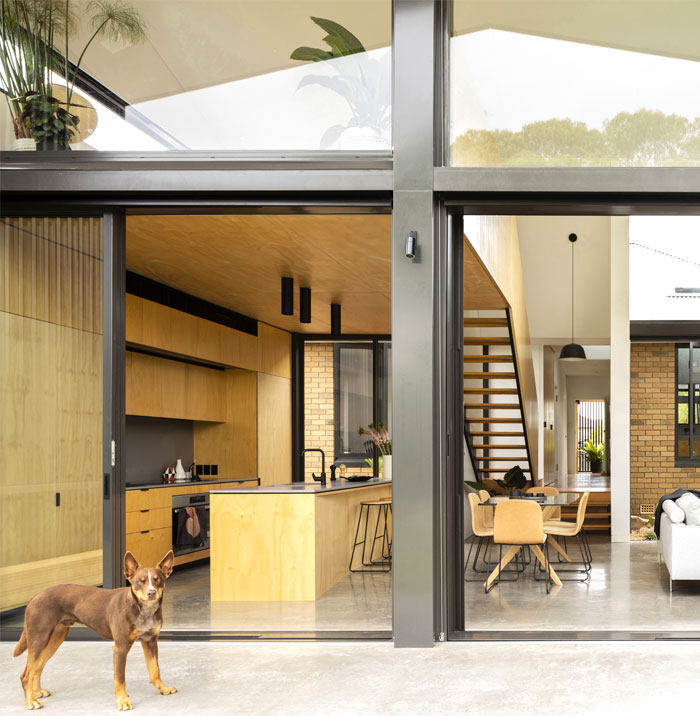 The decor composition of this double height sunny, modern home is based on elegant entwinement of honey and gray tonalities. The first- a reference to the beauty of the yellow brick construct of the original bungalow is warm and sunny, the lather inviting and – even with its subtitle industrial edge cozy. The pavilion hosts in an open floor plan composition, a double height living room, dining and kitchen zones. Visible through the vast glass openings on both sides are the gardens, open yard on one side and a passage courtyard and wonderful yellow brick structure of the original cottage.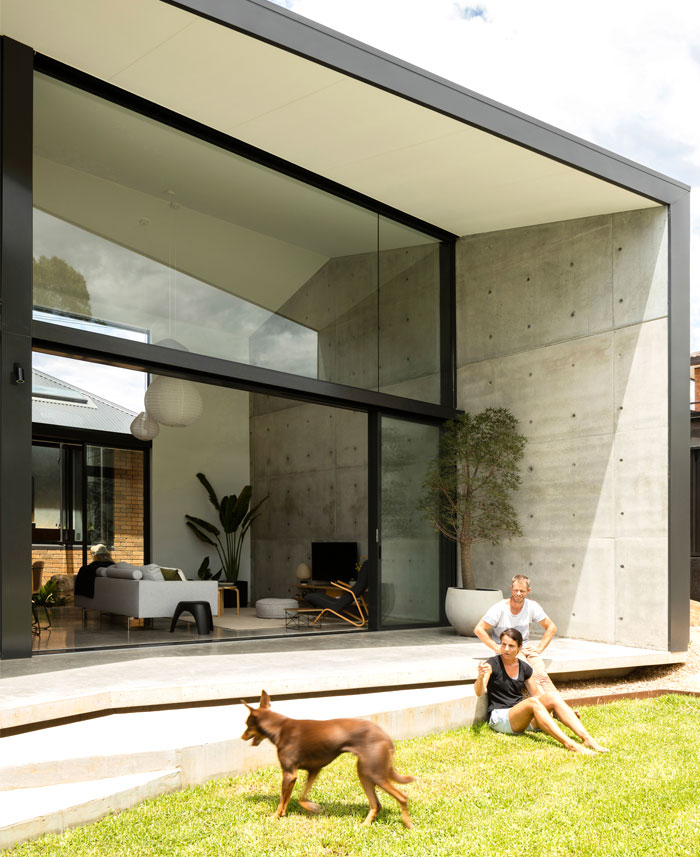 In the interior decor project the architects used the dynamic entwinement between the exposed concrete slabs of the walls, the polished concrete floors and the black metal frames (all industrial and urban stylistic hints) with the warmer and the sunny caramel coloring of the wooden cladding, custom-made fittings ( including the impressive stairway leading to the second level) and some hand-picked furniture elements to add warm and colorful accent to the decor composition.
The black frames and accents underline those soft textural combinations (we just love the gray and caramel entwinement of the organic textures). And to create a perfectly balanced ambiance, the designers added elegant white focal points- the delicate beauty of the suspended white drops lamp design, the inviting serenity of the sofas and the cute decor kink – knacks giving punctuated light spots throughout the decor composition. This new pavilion addition has a very youthful, modern and dynamic character that is still sustained in a charming and elegant way. Photography by Brett Boardman Photography