Every designer dreams of a sky-high investment project. Interior architect Katarzyna Kraszewska loves challenges and demanding clients. That is why she did not think twice and decided to design and decorate the interior in the most prestigious high-rise in the capital city.
Their fondness for Warsaw made them buy a 165 sq m apartment on the 26th floor of the most famous tower in town. It was a turn-key project, ready to move in. Well, that is easier said than done. Especially that the apartment is situated in a prime location.
Designed by a star-architect Helmut Jahn, the building is a prestigious Warsaw address. Forty-four floors soaring as high as 160 metres, and 236 apartments. Including the one which is theirs, unique and extraordinary. They dreamed of it although they knew that they would come here only occasionally, perhaps at weekends. What they wanted though, was to feel at home any time they would come to Warsaw. A warm and friendly place but smart and classy at the same time. A catalogue-like interior was out of the question. The one they wanted was supposed to stand out from the other 235 apartments by the character and personality of its owners. To make it happen, they needed assistance of an experienced professional.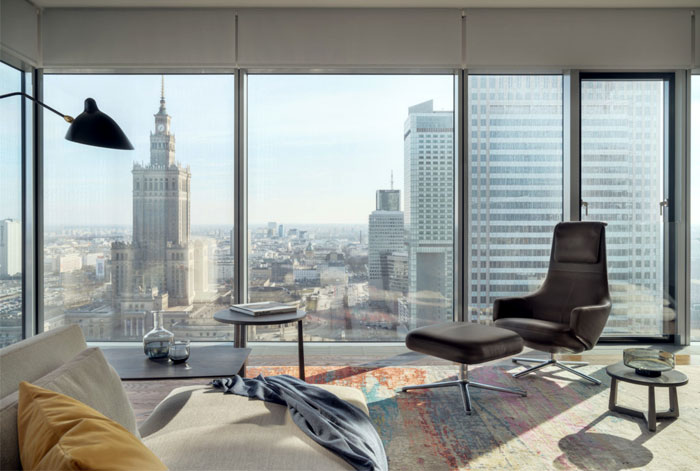 Katarzyna Kraszewska, interior designer, knows how to add an individual touch to any space. Her architecture studio specializes in modern interiors of timeless elegance designed for most demanding clients. She took up the challenge of arranging a "sky" apartment. The elevator swiftly moving between the floors took the architect up to the level of the spire on the top of the Palace of Culture. There, 165 meters above the ground, she saw a spacious lounge with open kitchen, two bedrooms with en-suite bathrooms, laundry and a large study. Most of these rooms were already furnished by the developer with top class materials and facilities.
A luxury apartment made an impression of a self-sufficient cell responsible for all its life processes. Here everything is done almost on its own. Intelligent systems control air conditioning, lighting and also … the shades, even if they are not too often used: why should anyone want to cover the breathtaking panorama of Warsaw ? The building itself is also equipped with a battery of attractions: restaurants, beautifully designed tea room, fitness and exercise rooms, massage room, saunas – all at the disposal of its residents, as well as a furnished terrace offering a view of Plac Grzybowski square, Emilii Plater street and the synagogue.
The owners were mostly interested in arranging the lounge, open kitchen and bedrooms in a way which would add a smart look and style to the apartment. What they definitely wanted to have was art, spelt with capital "A". Since they come to Warsaw only occasionally, they wished the interior to be a luxury pied-à-terre, where they could comfortably relax enjoying the view of their beloved city. Thus, the lounge was arranged with a sine qua non of true relax – two sofas made by Italian Flex-form, facing each other, and a comfortable swivel Vitra armchair. A large dining table was not necessary; a round table comfortably seating four people was more than enough. Since the owners love good cuisine, a fully furnished culinary space was important. It was supposed not to dominate the elegant, tidy interior. The design for the kitchen, which opens up to the lounge making one space, was therefore light and graphic. At the first sight, it looks as if there was no kitchen or it was just reduced to an island. However, only the insiders know that it is there … hidden behind a work of art. The wall, which usually displays a painting by Agata Czeremuszkin-Chrut, opens up to show all the necessary kitchen facilities: fridge, oven, coffee maker and quite a large worktop.
The apartment does not have too many brick walls since most of them are glazed, but the architect decided to have the brick ones in warm cream white. This colour lightens up the space even more and provides a neutral background, ideal to display paintings but also other colour accessories. Dark oak floor is covered with a beautiful carpet, "patched" with colour hues against a grey back-ground. The couple decided for a pinch of fantasy in the bedroom. The architect managed to convince them to have a glam wallpaper, which decorates the wall over the bedhead. Attractive Cosmos Vibia lamps, suspended from the ceiling on both sides of the bed, are the apartment's "number one".
The owners love looking from atop at the city living its own natural rhythms. Down there, there is a vibrant labyrinth of streets and up here – a haven of peace and tranquillity. Evenings are truly magical, when – seated comfortably in their sofas – the couple can watch a unique show – the sun setting behind the neighbouring houses. As dusk gathers, the city falls asleep, and the only thing one can see through the large windowpanes are the paths of street lights mapping the night topography of Warsaw. There is nothing as beautiful! Photos: Tom Kurek