Reimagining a mid-century modern home in Seattle the architectural and design team from SHED Architecture & Design together with interior designer Jennie Gruss, gave this 1957 home a new life and intriguing design entwinement between retro and modern elements.
Using extensive timber cladding, custom-made wooden structures and furniture elements framed by modern, exposed, black metal beams the design team created a warm, welcoming and pure ambiance for the young family.
Preserving some of the original features of the home (originally designed by PNW architect, Arnold Gangnes) like the beautiful hardwood floors in the kitchen and adding stylish upgrades – like the Maroon laminate cabinets from Beech Tree Woodworks, which give a pop of color on the backdrop of the untainted blond wood structures the designers achieved beautifully balanced ambiance.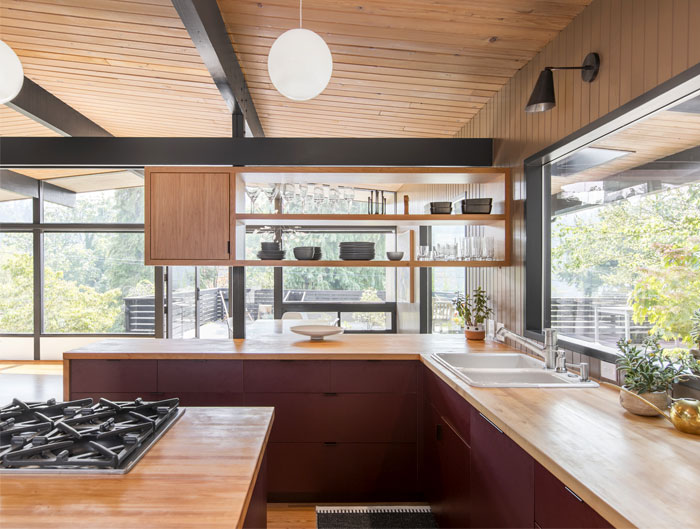 Intriguing decor details like the mid-century modern lamps design, the inviting sofa arrangement – that also carry a retro hint, the entwinement of modern and 60-ts decor combinations – give the home a charming individually and stylish emanation.
Our favorite feature is the inside swimming pool – what a treat in the cord or rainy days. The pool premise is actually the former toolshed a challenging transformation preserving the limited footprint of the property. The dining room design arrangement also has a capturing artistic expressions – the strips of the wall and ceiling cladding materials correspond with the stripe pattern of the modern rug's design.
The dynamic juxtaposition between wooden textures and the black metal frames is replicated throughout the home's design in the entwinement of black and white color accents and textural patterns – an artistic and stylish decision.