Fresh & Go is a cozy and charming fruit shop located on the sixth floor of one of the biggest shopping centers in Kiev. The founders of YUDIN Design studio, Aleksandr and Vladimir Yudin, have dealt with the planning and the design of this place.
The 70 sq.m bar is expressly aimed at the typical inhabitant of a metropolis like Kiev, with his frenetic life and the need to get the necessary energy. Here smoothies, juices and fruit salads are prepared, and different showcases and refrigerators contain fresh and dried fruits, and other natural derivatives such as oil and tea.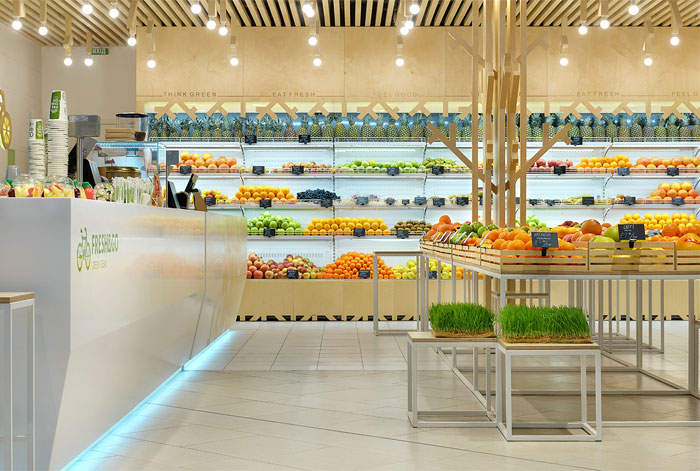 "Eat fresh, feel good and think green" are the slogans and the concept that the bar offers to its customers: the freshness of the products and the possibility of take away orders. Entering this bar, the visitor is struck by the smell of the fresh fruits and the multitude of colors, almost feeling the sensations of doing something useful for his health.
The eco atmosphere of this place has the power to distract the guests from the busy life of the city; this concept is underlined by the slogan that follows the name of the fresh bar: Green ideas. The main concept that the designers of YUDIN Design wanted to develop is the attention that everyone should give to themselves and their health, and they did it trying to give this place the maximum of positive emotions.
Maximum attention is paid to the brightness of the furniture conceived by the designers and the order in which the various products have been arranged almost to compose a painting. The products, neatly stored, are maintained at their ideal temperature, giving maximum freshness and genuineness. In fact the bar counter contains the fruits under ice, and guests have the opportunity to choose between the different ready preparations or to order others.
The designers Vladimir and Aleksandr Yudin tried the best to exalt the various potentialities of this bar, characterized by an efficient service, wide range of products, healthy drinks and food. The bar station dedicated to the food preparation is composed by stone decorations in white and different shades of green.
Plywood is the most used natural material in the interior decoration of this bar, especially in the ceiling, in the walls above the showcases and in the center of the room with a tree-shaped decoration. Also the lamps that guarantee the lighting are mounted on the plywood, in the shape of branches. In addition to the plywood, the designers also used other natural elements of decoration: metal and stone.
To ensure enough space inside the bar, the designers of YUDIN Design decided to place the shelves only around the perimeter of the area, placing at the center some tables that support several boxes containing different fruits. All the elements of the furniture have been specially designed by the designers for this bar, as it often happens in the projects of YUDIN Design studio.