Something old, something new, something pink, something cute… Delightful and chic new ambiance for this vegan restaurant in Tel Aviv, Israel designed by Amit Studio. Following the natural curve of the 1930 architecture of the building's ground floor, the designers created such a stylish and cute ambiance that even non-vegans will be tempted to enjoy the serine and fresh ambiance of the place.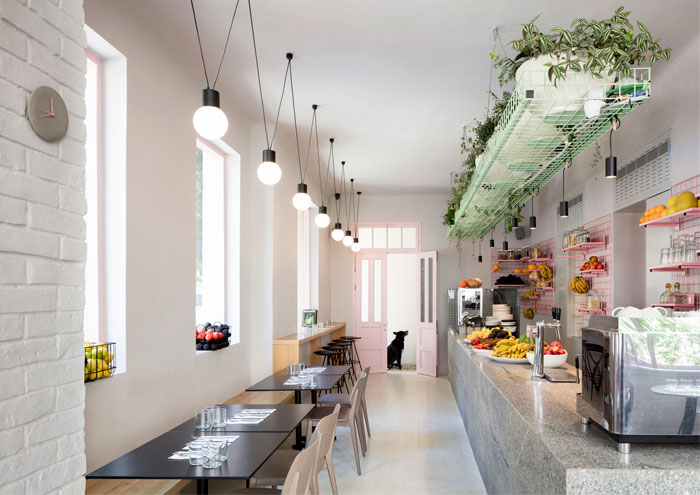 Using pastel color combinations – dominated by the pale pink of windows and door frames (a color that used to be hot and trendy on the word's design scene for the last few years and hasn't lost its momentum yet) the designers composed an entwinement of delicate nuances. The original, exposed brick walls and organic wood floors were pained in luminous white creating an excellent backdrop for the elegant gray surfaces – the stone top tables, the majestic, solid, granite counter and the trendy grey Doll chairs – a composition spiced up by the fresh pastel nuances as well as the vital colors of the abundant supply of fresh fruits and vegetables used in the kitchen of the restaurant.
Lucky find were the trendy, suspended metal crates painted soft green and pink, filled with fresh products and potted plants. Recycling the material from a closing-down shop the designers created a stylish and practical decoration with a playful urban note. Another intriguing design detail is the custom-made, wooden window-bar that extends into a build in bench – a composition that is adding to the organic, playful and fresh feel of this whole space and its delightful decor arrangement. Photography by Amit Geron.